Did You Know Jason Alexander Went to Jenny Craig?!?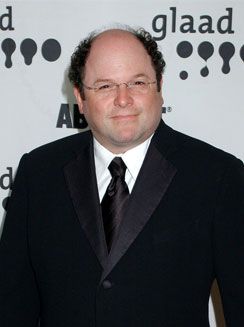 United States
February 10, 2010 10:56am CST
Now, I'm not usually one to click ads here in Mylot; and seeing as how I'm always fussing about needing to GAIN weight, weight loss ads are generally ignored. But today while responding to a discussion, I saw a banner with a portly man on it, asking to join him at Jenny Craig. The man's face caught my eye, I made a trite comment about how "George Costanza has really let himself go". I scroll up and see that it actually is him!!!! I mean, from the days on Seinfield, he was always a little portly. But as you can tell, it took me a few seconds to realize it was him to look at him today! I think this will be a great boost for Jenny Craig. Maybe him being the next spokesperson, men will feel comfortable going to Jenny Craig. If you would like to see for yourself, or even get more information about his weight lost track, copy and paste the link below for Jason Alexander's Weight Loss Blog: http://www.jennycraig.com/successstories/blog/jason/javlog1
3 responses

• United States
11 Feb 10
Hi drknlvly! I happen to agree with you! I think that Jason Alexander is a perfect spokeman for Jenny Craig! Why shouldn't they use a man for a change! Give men an incentive! And let it be someone that they are familiar with seeing on tv and can identify with! I think that it is wonderful for him to step up and take on the challenge! He want's to lose the weight and get healthy and isn't ashamed to say so! Good for Jason and I wish him the best of luck! I'm sure he will make it alot easier now for men to come forward and start using Jennny Craig products! I wish I could afford to! That food looks amazing!lol

• United States
11 Feb 10
You think the food looks amazing? I'm sorry I have to disagree. Everything they show in those commercials looks just a tad off, at least from what I'm used to. And the so-called "chocolate" cakes look like mud pies to me, with real mud.

• United States
11 Feb 10
I forgot to say, good thing I don't have to worry about it lol!

• United States
11 Feb 10
Sure celebrities go to Jenny Craig, because it is paid for by Jenny Craig. It has been proven time and again, once Jenny stops buying the expensive food, they gain the weight back. Definitely not a program for the average person unless you are quite wealthy.

• United States
11 Feb 10
Well, I happen to be a person that believes you don't need these program foods anyway. You can eat whatever you want in the real world from any grocery store, if you just do it in moderation, and get out and exercise in some way on a regular basis. Also remember to include healthy foods every now and again. I know they're more expensive and we're in a recession, but you want to live to see the end of it right?

• United States
10 Feb 10
I saw him in a commercial for Jenny Craig a few days ago. I thought that program was designed for women. Why couldn't he do a commercial with all of the formal football players? I mean, dude never came off as being athletic in the tv shows he's been in. But still.

• United States
10 Feb 10
I don't think there's anything wrong with Jason, or any guy for that matter, being a spokesperson for Jenny Craig. Although, if you take a look at the caption for the pic I posted, it might be a clue lol.