Euthanasia Do you believe in it or not?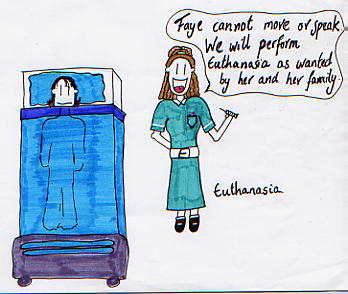 United States
February 15, 2010 8:08pm CST
Euthanasia is legal is a way of bringing about a peaceful death of a terminally ill person. It is not legal in the United States or the UK, but is legal in Holland. If you had a family member that was terminally ill. Would you be able to say "Pull the plug".

4 responses

• Indonesia
16 Feb 10
whatever the reason, Euthanasia is a way / inappropriate actions made by human because it was against the nature / will of God .... and if any brother / relative of mine who was ill, I still give support moral for them to keep have passion living

• United States
16 Feb 10
I always thought that this would be an easy choice. I would never want someone that I loved to suffer and at some point, I think that the family is keeping the loved one alive for themselves. My husband had a stroke on 1/28/09, fell and hit his head on the pavement and sustained a traumatic brain injury. The following day, he had a blood clot removed from the left side of his brain. While he was never terminally ill, the nurses in intensive care told me that I would have to decide whether or not I wanted to keep my husband on life supports because he hadn't improved much. I immediately asked to see the doctor because he had never told me anything like this. He told me that while there were no guarantees, they thought that my husband would improve. There was no way at that point that I was ready to let him go. We had no idea that he was sick and the entire incident was a shock. While he still has comprehension and speech issues today, physically he is doing great. Exercise was always a big part of his life and he is actually back to running on a treadmill and he works out at the gym every day. My experience made me rethink my position. It is a whole different story when you are in the situation. Personally. I like the French system where the Doctor makes the decision. Doctors come with a well informed opinion and there is no emotional attachment to have to deal with with.

• United States
16 Feb 10
I've never been in that situation so it's hard to say, but I think if a loved one were suffering, I would want to be able to abide by their wishes. My husband and I talk about that from time to time. Neither one of us would want to be kept alive in a vegetative state. I'm sure it's much harder to do when it's actually happening, though.

• Canada
16 Feb 10
I would actually suggest a majority vote on this one. If the person was terminally ill and not able to say whether or not they wanted to go and there was no way of curing them, then I believe a majority vote of the closest family of whether to let him or her go or not is fair because they knew that person when he or she was of sound mind and would probably have a good sense of if the person would want to be euthanised.