Does your family have a Thanksgiving ceremony?

United States
November 15, 2006 4:23pm CST
Does your family have a Thanksgiving ceremony? It's hard to beat a tradition that involves lots of food and football. But are you looking for more formal and meaningful ways to express gratitude for your family, friends, and country on this special day? Edward Bleier's book The Thanksgiving Ceremony, featured in the November 2004 issue of Reader's Digest, offers new ideas for the classic family feast that families of all faiths can use to create their own ceremony -- including readings on the Pilgrims' first feast, poems, prayers, and candle-lighting rituals. Do you think it's important to build holiday traditions? Already have a Thanksgiving tradition you'd like to share? This is the place to share your favorite holiday rituals.
3 responses

• United States
15 Nov 06
Yes, we do, and I enjoy it very much. Last year I missed it because in November I was in Canada visiting in-laws, and I was a little bit mad.

• United States
16 Nov 06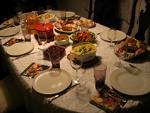 I'm sorry you missed your Family gathering last year. I hope you are able to enjoy Thanksgiving this year. Enjoy!

• United States
16 Nov 06

I am sorry. Do you have a similar Holiday where Family and Friends gather during Harvest time to celebrate?

• Beaver Dam, Wisconsin
15 Nov 06
We always have dinner at my parents house and everyone takes part in making the meal.

• United States
16 Nov 06
Ah, that is a nice tradition. It helps the host/hostess out by not killing himself/herself over trying to make everything. Bonus is everyone gets to enjoy a fabulous meal with only part of the work!