now this is going way to far!!!

United States
6 responses

• United States
24 Feb 10
It's not the patch for the DoD; it's the new patch for the DoD Missile Defense Agency. I didn't see anything wrong with the old one, and to me, it's a waste of time and resources to develop a new one for an old agency. Their mission hasn't changed...

• Boston, Massachusetts
24 Feb 10
Hey, I am sorry - I didn't realize this discussion was about the new logo for the Missile Defense Agency and I started one too. If you want my opinion, this president has way more ego than the US has room for. I found this new logo to be a little frightening because of how much this president thinks of himself. Anyone that into himself doesn't have much left over for the rest of the county.

• Boise, Idaho
25 Feb 10
The movie that Al Gore did is An Inconvenient Truth from 2006. It was very indepth and I found it very informative. Now to think of it as a bunch of bunk is very sad. And Al Gore was on several talk shows and seemed to really have it all down so well it was very believeable.

• Boise, Idaho
26 Feb 10
I wonder why such a large bill if that was for consecutive months or just the one.--????

• United States
26 Feb 10
Supposedly this logo was designed long before he became Prez, but it does invite the query, as he once said he would "come down on the Muslim side of things." You'll have to ask him what the heck he meant by that. The man's just
weird...

Maggiepie "We have an aging white America. They are not making babies. They are dying. They are
(CENSORED)
in their pants. I love it." ~ Prof. Jose Gutierrez, University of Texas & founder of
La Raza
("The Race") (Just another racist Leftist...)

• United States
25 Feb 10
I don't like the logo at all. It is ugly. I didn't see mentioned logos, so I am not sure if matches any other logo, but it has very poor design.

• United States
25 Feb 10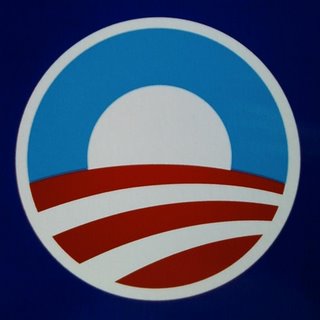 It has IMO a distinct Islamic flare to it. It also is similar to Obama's Logo (Organizing for America) and the Pepsi Logo. It does not give me any feeling of American pride or security if the is how the DOD is represented!

See image of Obama's Logo!