are parents always right??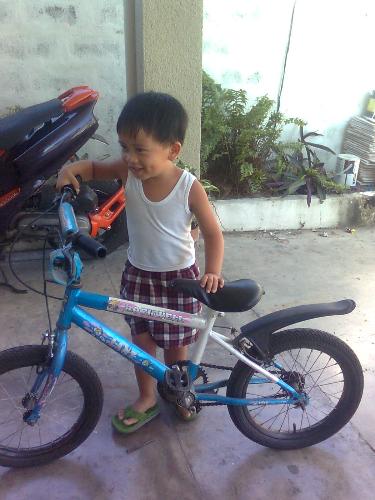 Philippines
February 24, 2010 8:55pm CST
they say parents knows best..and when it comes to our lives, they are our number one contra bida..they always preach us whats right from wrong..what to do and not to..BUT!! IS OUR PARENTS ALWAYS RIGHT???
8 responses

• Philippines
25 Feb 10
..hi.. parents are not always right.. it is just that they want the best for their children.. because of this, they sometimes make a decision that is against our will as children but they push us to do it because they think it is the best for us.. no parent would ever wish their children to end up bad or failure.. however, most parents are not able to realize that we as children need also sometime to decide for our self and do what we want that will make us happy.. later, we will also be parents and I believe we will understand our parents' behavior when we are on their shoes.. the best thing for us to do right now is explain to them that we have our own dreams and aspirations.. we respect their opinions and their goal that is for us to be better, but we don't need to always say yes to them.. they won't be there for us always and soon, we will be staying in different places or homes and we as children should also learn to decide on our own because their will come a time that we will lost our parents and we have to be on our own.. we have to understand our parents because they have the best intentions for us..

• Philippines
26 Feb 10
thats a good point of yours raynejasper..and i would definitely agree on you..because before when i was a child i always think that my parents were just against of all my doings, not knowing that they just want the best for me and they just dont want me to get hurt..and now that im a mother, i understand where they're coming from.. thanks..

•
2 Mar 10
Hi parents only think that they are always right. Maybe because they are ahead of us a couple of years in life. And the fact that they are our parents. But what i can say is that they also commit bad decisions most of the time. They impose things that often we us the children regret but they also make bad calls in life that we as children learn from

• Philippines
25 Feb 10
Parents wants for the best of their children but at some point not all their doings will give a better way for their children it sometimes more of the secrets of their children are not open to them but to their friends. Some parents are the model of their children and not all parents are good too. That is why there are lots of children in wrong wrong way because it started from the house that the parents are the foundation of the family.

• Philippines
26 Feb 10
but for you??is your parents always right for you?? id be happy to hear your opinion.. thanks

• India
4 Mar 10
As far as bringing up is concern they do their best but i will not say they r always right but at the same time they will never think bad of their children

• India
27 Feb 10
Who said parents are always right? If you had asked about the boss, all would have agreed in unison that the boss is always right. But not the parents. Parents too are humans and are porne to make mistakes. So, I sincerely feel that they cannot be always right. But yes, there intensions can never be wrong towards their children. But the way they go about it can be wrong.

• United States
26 Feb 10
Parents are not always right, I am a parent myself and know that sometimes I say things to my kids and realize that I am wrong, honestly sometimes I tell them sorry I was wrong and sometimes I dont. I have learned though that kids will not usually do what you tell them to, but instead do what they see you do. So the best I can do is set a good example for them and try to ensure that I am doing the right things so that I WILL always be right :) Well happy mylotting.

• India
26 Feb 10
No, nobody can be always correct coz times change continuously and with it newer concepts and ideal come which will be unknown to our parents. Why we say that parents and elders are correct coz they have more experience to judge a situation but that judgement may not be always applicable. What was prevalent in their times might become obsolete in their children's time however, some basic things remain the same and as I said, parents have more experience to judge a situation better.

• United States
25 Feb 10
Of course they arent...NOBODY, parent or otherwise, is ALWAYS right for that matter...and there are parents (such as my own) who are mostly WRONG...there are parents who are far more life educated and openminded so when they give advice etc they have experience to back them up and tend to be more right than not rather than a parent who is UNexperienced in life and is closed minded so when THEY give advice they are more likely to be wrong in the advice they give becuase they have nothing to back them up or no real knowledge on the subject at hand ya know...

• Indonesia
25 Feb 10
unfortunately: YES! LOL. but my parents are modern enough. if they don't agree with something their children do, they don't cut our intention directly. but they only give a kinda of advice or suggestion from another view. sometimes my parents view is much more correct than mine. so, it's ok if we always listen to what they say. they were ever young and now they're old, but we're young today and we haven't ever been old, so why they're wise because they have many experiences in life.