Do you like nextel phone serivce or sprint phone service?

United States
February 28, 2010 12:56pm CST
I have both phone services because I have boost mobile phones that each one goes with a different service. Its much cheaper for me in the long run. I noticed that my nextel service is having issues and was wondering if anyone was having the same issues before I go buy another phone to replace it and possibly switch phone services? Any help would be appreciated. Sales people want to sell you an item to make money.
2 responses

• Daytona Beach, Florida
28 Feb 10
I don't know where you are from, but Sprint and nexttel are one in the same. A couple of years back there was this huge buy-out, and ending result... Nexttel and Sprint murged. So if you're not fond with one, chances are the other won't do you much good. But, it sounds to me its not so much a provider issue as it is a location issue. Not all phones favor locations well some of them anyway. Check your coverage for your area on the provider's website.

• United States
1 Mar 10
I know they merged ,but they are on different towers. I had nextel for years and it was great. After the merger my nextel sound and service went to crap. I live in the same house for the past 20 years. I found that my sprint does not miss a beat. I liked nextel because in a catastrophe they are usually the ones up first because governmental agencies use them and they have a feature on them that you can reach someone within a 5 mile radius even if there is no phone service yet up and running.. That the plus side. when its in use the sound quality is awful. I feel like the commercial can you hear me? Yeah I guess it could be a location issue to.

• United States
1 Mar 10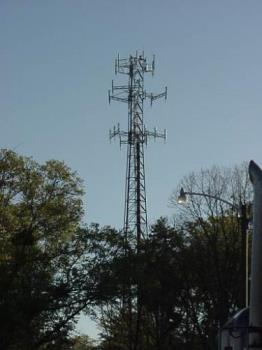 Well, from what I understand, both of you are right in some points & wrong in some points, too. Nextel phones are based on iDEN system, Intergreated Digital Enhanced Networ, and Sprint phones are based on CDMA system, Code Division Multiple Access. Just because 2 corporates perged doesn't mean they use the same system. Many companies merge due to financial reasons rather than their technical reasons. That being said, physical towers themselves have nothing to do with the service, or service providers. One tower can have many different antenas built into it, as the picture I've included shows. Eash section of the antena can represent different service provider. Top layer can be used by sprint & middle one can be used by AT&T while the bottom one can be used by T-Mobile, or any other combination there of. In many instances, physical towers themselves will be owned by 3rd party company while each carriers, T-Mobile, verizon, AT&T, Sprint, etc, will lease them or rent them for use. I don't know the full details of their lease contracts. Or they all can be used by same carrier for different reasons, like Nextel, one layer being used for TDMA - time division multiple access - for cell phone use while using form of truncated system for their walkie talkie.

• United States
28 Feb 10
That's one of the reason why I left Nextel. I was having spotty service to begin with but when Sprint & Nextel mgerged, service has gotten worse. It just might have been where I lived. I went through 4 different phones & finally changed my service provider to T-Mobile & it's been fine since. That was little over 2 years ago. I'm not sure how they are now.

• United States
28 Feb 10
Yeah the merge seemed to make reception worse let alone customer service. My sprint phone is awesome. No dropped calls, clear speaking and reception. Its great. Nextel on the other hand well I am not happy with. I have replaced that phone over and over. The walkie talkie is the only thing good about it. Thanks for input.