3 Idiots or My Name Is Khan...?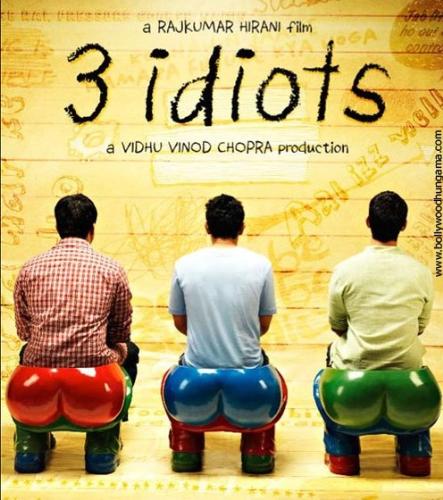 India
March 2, 2010 4:48am CST
Hello friend, After a long time I am posting new discussion. I have seen both movies(3 Idiots, My Name Is Khan). Both are good. But most people like most 3 Idoits, and me too. Becoz, of overall storyline,editing,songs,Dialogues, and main thing 'acting'. Rancho (Aamir) is awesome in this movie. His tricks, queries make you laugh. But There is a good message to our(old, rubbish) education system. And 'My name is khan is sad' , senstive movie. The issue of this movie is a burning issue now a days. SRK, and Kajol were very well-acted. they both brought tears to my eyes. But I think, It really depends on what kind of mood you're in, or what kind of genre you prefer, because they're both so different it's hard to compare them. But Never the less I like 3 Idiots. What about you friends.?
8 responses

• India
2 Mar 10
I will too go for 3 Idiotes not because it is an entertaining movie but because the message they want to convey and how we perceiced it. 3 idiotes have successfully conveyed there message and audience has accepted it. where as My name is khan had a wonderful message but it didnt portrayed in a convincing way. There are more wonderful movies made on such topics such as Khuda ke liye.


• India
16 Dec 10
Both have different story lines and both are watchable one. In my view My name is Khan would have been a better movie if the main role played by Shahrukh Khan is played by some one else it would have been even more interesting. Kajol was too good for her role and all the other actors too acted well in that movie but King Khan was disappointing. He is the reason why I could not enjoy the movie. To some extend the music was highlight that saved the movie from a flop. 3 Idiots is awesome and it was the story of you and me and anyone who does in college like raging, bonding friendship, teasing teachers,etc. That is why this movie has attracted every audience. Aamir was amazing and outstanding with his role and well supported by Madhavan, Sharman Joshi, Boman Irani,etc. Whatever I have seen both the movies and enjoyed it. But I felt that Shahrukh Khan did not fit into the role in My Name is Khan, never seen him under perform so badly.

• India
2 Apr 10
Well i loved 3 idiots movie much. It has lots of messages to the world. I did not see the movie My name is khan. I always been a fan of Aamir right from Qayamat se Qayamat tak and sharkuh for his DDLJ. Both are equally best khans!

• India
5 Mar 10
I did not watch the movie 3 idiots i heard that it is a good comedy movie. I saw My name is khan movie. It is not entertaining but i liked sharukh's and kajol's action in the movie

• India
3 Mar 10
Shah Rukh Khan's position in international market was always higher than Aamir Khan. However, after the success of Ghajini and 3 Idiots, Aamir is running shoulder to shoulder with Shah Rukh in the international market. SRK's movies have always created history as far as overseas box-office collection is concerned. However, Aamir's 3 Idiots broke all those records. Even the business of My Name Is Khan isn't anywhere near the business of 3 Idiots. After 59 days of its release, 3 Idiots has made a business of Rs 30 crore. On the other hand, the business of MNIK after 10 days of its release is just Rs 15 crore. However in UK, MNIK is ahead than 3 Idiots.


• India
12 Dec 10
Well i shall go for the obvious choice "3 Idiots" --- which makes more sense and above all sends a great message to the audience and a well thought and executed movie presented in an awesome manner.great day.