Does your kitten go outside or is it indoors only? Anyone, your opinion please.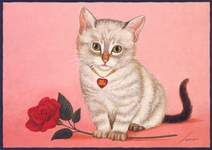 India
March 5, 2010 8:17am CST
We have two kitten and both go outside now and then stay for one or two hours and come back home. My friend does not allow her kitten to go out and by chance if it goes out, it does not know to come back home. These people go in search of it, see it standing one floor down or up in the apartment and shouting for help and these people bring it back. We feel cats should know how to survive outside too. They should know the life outside, how to hunt and how to face the dogs or other cats. What do you say about it? If you have cat as pet, what do you do in this matter?
7 responses

• United States
6 Mar 10
I don't allow cats or kittens to go outside. Most towns I have lived in have laws about animals needing to be restrained. In town there are too many dangers for animals, such as traffic, other animals, people, for me to risk my pets' lives. I would also worry they would just decide not to come back. I don't have anything against people who let their cats outside, especially if they have identification and are taken care of. It's just not a risk I want to take. I feel sorry for the poor kitty who gets out and gets lost.

• India
7 Mar 10
You are right. Very recently my friend's kitten got lost like that. But these kitten never listen to us. They make so much shouting and crying and we do not have any other choice other than leaving them out. But they come back on their own.

• United States
7 Mar 10
I just wanted to add that my daughter has a black cat who is a big escape artist and will try to get out the open door whenever someone is coming or going. We live in town but it is near a creek and a wooded area and there are wild animals (coyotes, raccoons etc) that might hurt him. He is declawed in front so he wouldn't be able to defend himself well. It is also near a highway. Also, we have heard of people stealing black cats, especially around Halloween, to use in satanic rituals, so we have to be especially careful at that time of year. So far my little cat Pumpkin will only cautiously approach the open door and hasn't actually managed to get out yet.

• India
10 Mar 10
Yes Yes rapunzelcat, these cats are very clever. My brown cat papa hides behind sofa, or books almirah or under the tv stand, which is very near the main door. The moment anyone is opening the door to come in or go out, this one will run very fast and escape. I too have a black cat with white patches.

• India
17 Oct 11
In our home there is no pet kitten at all, but you can see several moving from one room to another, they are stray kittens, abandoned by the mother after giving birth , i hate them as they soil our beds, sofasets.. Best of luck.

Professor

• India
11 Nov 11
Oh! They come inside your house is it? Usually cats do not believe people so easily. Unless they are confident about people that they never harm them, they will not move freely in anybody's house. That means they found your family friendly for them.

• United States
26 Sep 11
All of my cats are free to come and go as they please. They usually hang around outside and come home just to eat. Some of them sleep at home. But sometimes they stay outside for days or even a couple of months, so they eat and sleep outside. I don't mind. They are living their own lives.

• India
11 Nov 11
That is good for the cats as they know how to survive outside, if need arises.

• United States
25 Mar 10
Hi Buchi_bulla, My two cats are indoor cats. They like and sometimes if I leave the back door open by accident they will just poke there heads out and so No and stay inside. I feed them really well and have the run on the house and sleep on the beds. I think they know they have it too good here compared to outside world. Do not get me wrong the love looking out the windows and seing the squirrels and birds etc... Thanks and have a great day Sincerley Unique16

• India
29 Mar 10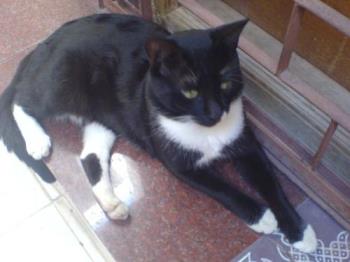 It is good they never go out. But my cats are of going out nature. One cat has picked up some skin problem now. Today I am taking him to the vet doctor.

• Indonesia
13 Mar 10
I don;t have a cat but I have 3 dogs. 2 female and 1 male. I never let them out. If they by any chance run outside,I will scold them terribly, and they know I am angry so they won't escape next time. It;s for their own good. In my country, dogs get stolen very fast when they are alone outside, especially when they are cute. I am also afraid they will get into terrible fights with other male dogs when it is mating season. I've seen how terrible male dogs can fight to get to a female dog. And if it's a female dog, I'm afraid it will come home pregnant if I let them out too. Last but not least, I am afraid of my dogs catching fleas from other dogs too. Oh yes, and I am afraid if they go out, they will eat rubbish which are bad for their health. Once they eat rubbish, they will not like the normal healthy food we give them anymore, and it will e a burden for us at home.

• India
29 Mar 10
You have put forth all the valid points very well Godmother. My cat was staying indoors all these days. But of late it was pestering to go out. When we left it out quite often, it developed some boils like thing and hair started falling. It is a beautiful male cat. The skin was so shining and very healthy and heavy. Now the beauty is gone and the weight is also less. Today I will take it to the vet doctor.

• Germany
10 Mar 10
It depends on the type of cat you are raising. If its a local hsehold cat, one can let it go outside and come back as it pleases. But if you have a pedigree cat, these cats are so precious to be let otuside without you watching it. If you have an enclosed garden, you can let it play & smell the fresh air or climb your tree. Pedigree cats (persian, british short or long hair, scottish fold, siamese, russian blue, among others) are also often stolen. Bec of their nice breeding, nicer features and character, they are better preferred as indoor cats. There are many accessories found in the market to make the life of your indoor cat a heaven. Buy it some of these stuffs and it will be happy.

• India
10 Mar 10
Very correctly said. Mine are not pedigree cats as such but my black one is a good breed. That is what the veterinary doctor told us. But I cannot control them. They make such a big ruckus and shout and literally cry (a sort of crying sound they make) that we are not able to stop them any more and leave them out.

• India
6 Mar 10
Since we do not have any kittens at home, I do not know anything about them and I have no idea about them either. Sorry, I may not be of any help to you in this connection by giving my opinion

• India
7 Mar 10
It is ok friend. But you have a cute little kitten as your avatar and I am sure you like kitten and pet animals.