Does your pet animal sleeps on it's own or needs your petting?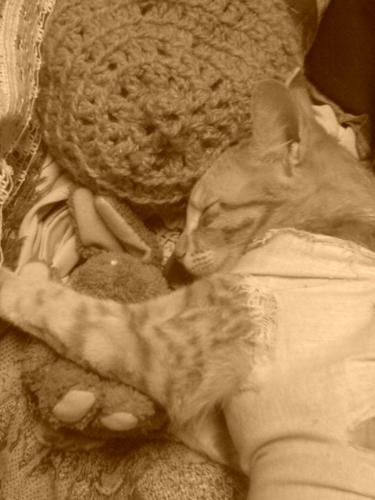 India
March 5, 2010 8:31am CST
My dog and black cat sleep on their own but my brown cat requires some petting like fondling on her head, nose and neck and tapping on her back. Then she will hold our hand, gently bite our finger and goes to sleep. For that she will be after us when she feels sleepy. How about your pet animal? Does it sleep on it's own or you make it sleep? What do you do to make it sleep?
5 responses

• Hong Kong
5 Mar 10
My pug sleep on his own, but I always fondle him on his head or kiss him before I go to bed. Sometimes, he is so excited that he wants to play with me and refuse to sleep, I would held up my hand as if to beat him, then he would know he need to sleep and go to his bed to sleep.

• India
7 Mar 10
That is really interesting. These pet animals understand our actions and their meaning. It is so nice is it not?

• Hong Kong
10 Mar 10
Sure it is, it is so nice that it is easy to urge him to sleep, he is so sweet, he understands he should sleep at midnight and should become calm. My pug is old and he needs to sleep well.

• Romania
24 Jul 10
All the dogs i have sleep on their own.

• Indonesia
13 Mar 10
I have 3 dogs. The oldest is the one pampered most. She understands very well, when I say "sleep". And she always like to be massaged on her ears before she sleeps. If I forgot to do this, she would scratch lightly on my hand to ask me to do this. afterwards, she would lick my whole hand, and falls asleep immediately afterwards. This is her daily ritual before sleep. My second dog likes to be cuddled and kissed on his forehead before bedtime. If I neglect him, he would push his forehead to my lips and make me kiss him. my third dog is the youngest and is now 5 months old. so far, she does not show any demands jet before bedtime.

• India
11 Jul 10
Very interesting to read the sleeping behavior of your pet dogs Godmother. I think the animals are also like human children only. We feel happy to pet them in this way is it not?

• India
6 Mar 10
Our dog does not need petting while going to sleep. Once it will take its food it goes to its bed and sleep. But if any of my sons or husband returns home from going out, it demands petting and something to eat.Till they pat on his back and give some biscuits to eat, it goes along with them where ever they go, wagging its tail and making funny voices jumping on them, licking their hands and feet etc. Like small children, pets too demand petting

• India
7 Mar 10
That is so nice to read vathsala30. That shows how much your pet dog likes people and needs their affectionate petting.

• Canada
5 Mar 10
My cat usually finds a spot and falls asleep on his own.....But from night to night depending where he falls alseep he will generally hop up and sleep at the foot of the bed beside my feet....

• India
5 Mar 10
Yes. They need our smell. For that we have to keep our used clothes next to them. My cat needs any of our clothes and we usually put on the sleeping places of our kitten, any of our used clothes.