What does an artichoke taste like?

United States
March 5, 2010 1:56pm CST
I've never tried an artichoke before, but am interested after seeing it on a Food Network show. I know there are a few ways to cook the artichoke, like stuffing it with some other type of filling, but what? Does an artichoke taste better raw, baked, steamed, or fried? I wonder if the artichoke tastes anything like an asparagus, too. Do you have an artichoke recipe you can share with me?
2 responses

•
5 Mar 10
Artichokes are rreally popular here in Spain, and although i've never had one I am told they taste like anaceed (think I spelled that right)! Anyway, that's why I have never tried it and I don't beleive they taste anything like asparagus.

• Cambridge, England
6 Mar 10
I don't think they do taste of aniseed, though they might remind one somewhat of Florence Fennel (which does). They have a delicate rather nutty flavour but I suppose that if they are cooked or served with caraway, fennel or something similar, they would have an aniseed flavour. Perhaps you should try them sometime, Beautyfactor, if they are readily available in your market.

•
7 Mar 10
I may have to try it. I've no idea how to cook one though but I am willing to give it a go if I can find a recipe.

• Cambridge, England
6 Mar 10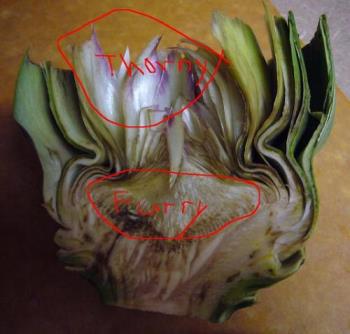 It's difficult to describe the taste of globe artichoke (which is what I imagine you are referring to). It does have some similarities to asparagus but with a more 'nutty' flavour. The artichoke is actually a huge flower bud. It's a member of the Daisy or Thistle family (Compositae) which means that it has hundreds of small flowers growing from a fleshy basal plate (the 'heart') which is the main part eaten. You can buy artichoke hearts preserved in oil and they are usually served as part of an antipasto, tapas, hors d'oeuvre, 'starters' or cocktail food. To serve the whole artichoke as a quite time-consuming starter to a leisurely meal, the prickly tips to the outside scales are trimmed, and the stem cut so that the artichoke can stand on the plate. The whole artichokes are boiled in water for about 10-15 minutes and served hot (one per person) with a vinaigrette dressing or simply melted butter. Ideally (and properly), the 'choke' (the inedible bunch of developing florets in the middle) is removed before serving. It is eaten by removing the individual scales from the outside, sucking off the fleshy base of each with the teeth, until one reaches the tender centre or 'heart'. This is finally eaten with a knife and fork. The photo below is the only one I could find of a section through an artichoke. It shows the thorny bits and the furry bits (the choke) which should be removed.

• Cambridge, England
6 Mar 10
The other kind of artichoke - the Jerusalem Artichoke - is quite different. It's actually the tuber of a plant which is a member of the Sunflower family and originated in South America. 'Jerusalem' is a corruption of the French (or possibly Spanish) name for sunflower, 'girasole'. It can be boiled and eaten as a vegetable, like potatoes, and also makes a rather good soup. It can also, I believe, be eaten raw in a salad but I have never tried it. It has a notable tendency to produce 'wind' and is avoided by many people because of this.

• United States
6 Mar 10
Hi owlwings, I never knew all that information about the artichoke! Wow, I am impressed by your breadth of knowledge. And now I want to try an artichoke even more, for the flower is beautiful in your picture. Thank you for sharing this with me owlwings! You are the best!

• Cambridge, England
6 Mar 10

If you have a garden, you can grow Globe Artichokes. They are a big plant, though, (six feet or more high with quite a spread of leaves) so they need a large border. Each plant really only produces a few artichokes every year, which is presumably why they are so expensive. They are a beautiful and tall plant with pale bluish green leaves and can be grown at the back of a flower border. If the plant is allowed to flower (which of course you don't do if you want to eat it), it is spectacular with it's bright purple thistle-like flower. There is a smaller but related plant called Cardoon where what is eaten are the fleshy leaf ribs or young shoots (earthed up to blanch them, like celery or chicory).