Would you get married on Halloween?

United States
November 15, 2006 9:31pm CST
i want to but some of my family thinks it is weird cause i would like to married on halloween what do you think would you get married on that day why or why not
10 responses

• United States
16 Nov 06
heck no i think it would be awesome to get married on halloween, do the whole halloween themed wedding too, vampires witches whatever it would be totally awesome.

• United States
16 Nov 06
that was my idea thanks for yor comment

• Philippines
16 Nov 06
no. its a little scary to think maybe i would prefer some romantic time like valentines or christmas

• United States
16 Nov 06
Sure, why not? I LOVE Halloween! --- --- --- "I certainly think Britney Spears is the devil. The way she projects herself and the fact that she is so obviously vacuous. I think it's such a shame that she became so influential to very small children." -- MORRISSEY --- --- ---

•
16 Nov 06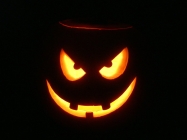 My friends girlfriends parents got married on this. I don't see why anybody would not, unless they are really old fashioned. I would not, but neither would I on any other day of the year. Plus it is the day after my birthday.

• United States
16 Nov 06
Yes I defeinitely would do it! My sister is actually getting married next Halloween and I think it's going to be so much fun!!!!


• United States
16 Nov 06
thanks for post i dont know to many people wh ohave gotten married on halloween

• India
16 Nov 06
I guess I would because I don't believe in supernatural.

• United States
18 Nov 06
I wouldn't want to get married on Halloween because there's 364 other days to choose. But, I did get married years ago on All Saints Day which was November 1st.

• Canada
18 Nov 06
I probably wouldn't get married on any holiday, for a few reasons... 1) We have the standard holidays, plus a birthday. Eventually, maybe a Mother's/Father's day. I'd like my anniversary to have its own special day, where we're focussing on that, rather than the other holiday. 2) It's more expensive. Booking your wedding in the summer, around Hallowe'en, Christmas, or early to mid February, is much more expensive. Flower prices soar, reception halls and caterers are in high demand so prices rise then as well. Just like getting married on a Saturday is more expensive than a Sunday, reception-wise. All that being said, I'd love to ATTEND a Hallowe'en wedding, if it were themed - it would be so fun! I just can't imagine it being fun, for me, to have my anniversary on that day every year. I'll give my wedding it's own day :)

• United States
17 Nov 06
I don't see anything wrong getting marry on halloween. If you want to get marry during that time, then it's on you. It's your life and you should be able to do what you want and have control of yourself. It's okay for people to give advice and not trying to tell you what to do. Know what I mean? Halloween is a weird dark holiday but what can be bad about getting married on a scary night? I think they're people out there that are trying to make good out of it and that's okay.