Which way do you want to exit, RED or GREEN?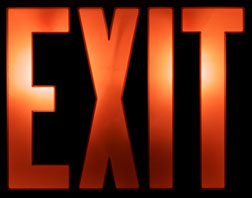 Philippines
March 10, 2010 10:16pm CST
Many are confused about the EXIT sign whether it must appear in RED or Green. They Argue that the green one just makes sense. Green is the color of safety, a color that means Go the World Over. Red on the other hand most often means danger, alert, halt, please don't touch. Me I prefer the green one. How about you? Lets vote for the world to see.
5 responses

• India
11 Mar 10
if u try to think what is the meaning of red and green. here green means that u r always welcome to enter and red means that we don't like if u want to leave us so, don't try to leave us. then which color we should use at exit?

• India
11 Mar 10
no. sir green= not( go away). clear and welcome. try to understand the colors...

• Brazil
31 Mar 10
Because red means something that you have to do. And the most cases the people use the red color on the exit is that you may exit some time. Normally on emergency exit or the movie theater exit.

• Brazil
1 Apr 10
Yes, it is a study of color influences in our brains, it's a interesting thing. And that is the effect that red does in our brain.

• Philippines
11 Mar 10
I prefer the exit sign colored red than green. It's because red can fire adrenaline better than green. I'm tired of green because it always signify of going ahead when at times it is necessary to stop and take a rest.

• Philippines
11 Mar 10
I didn't think of that. But if there would be adrenaline rush, there will be much brain stimulus resulting to low level of awareness for focusing in a certain situation.

• Philippines
11 Mar 10
when I was a kid I met a snake and it was at my feet. it was shining dark in color and that made me run so fast yet in a way that I do not strike the ground. my awareness was at its peak but I learned that I should have taken only 3 paces to avoid that snake and never have to run. The disadvantage of adrenaline is it gives unnecessary power.


• Philippines
11 Mar 10
Does that mean you are not comfortable with color green in general?

• Philippines
9 Apr 10
I prefer the color green, exactly what you have said. Green means go and Red means danger and stop. I would rather go for green exit sign as it feels safer.