Do you play Plants vs. Zombie?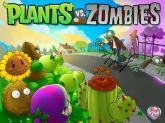 China
March 12, 2010 8:29am CST
Hello fellow lotters.

Are you familiar with Plants vs. Zombie? Have you tried playing this game? Are you addicted to this game? I tried playing this game once and i had fun but i didn't download nor ask for my cousin to do it for me cause i know I'll get addicted. Nowadays, kids are hooked to this game, even the two years old children. Have you tried playing the game? Did you like it?

How many hours do you spend in playing this game?
6 responses

• Philippines
12 Mar 10
hello simone... nope, i haven't played it yet but i saw my husband playing it once...it looks nice and well according to my husband its fun playing it... actually we just come to know about this game when one of my husband's colleague visits here with his daughter...yeah his 4 year old daughter likes the game and that's what she do while she's here...haha but even if she likes the game...she's also scared of it! haha so while playing, her mom should be by her side... right now, i don't try playing any other game coz i have a tendency of being addicted...and besides im kinda still busy with my farm!


• China
14 Mar 10
Hello.


oh, yeah! children wants somebody at their side while playing plants vs. zombies. Are you not tempted to try the game at least once? After you play, in able not to get hooked nor addicted to it delete the game after you play.heheheheehe Hmmmm... you're a farmer?? Are you busy mandating/assisting your workers?=P So what crops do you have? Its drought season, so how's your land?

• China
14 Mar 10
Are you serious? I thought you're really busy with your farm, the real one.

Actually i download the game this morning and i still have one hour free trial. I'm looking for the unlimited full version of the game but i can't find any free. My brother copied the game from her friend but he only copied the folder.Huh!





• Latvia
12 Mar 10
Its simple and awesome. Despite the weird ending boss, it was all just pure awesomness.

• China
14 Mar 10
Yeah!

I haven't finished the game because i don't want to spend more than two hours in front of the computer. I heard my friends saying that the game is so great and they even mimic the sound/voice of the zombies. They also love to scare the children when playing.


• Philippines
7 Nov 10
I got to play it before when we still had a laptop and my mom and brother spent a lot of time playing it. I think there's this mini game 'endless' and you get to know how long you have survived the zombies constant attacks with the number of flags you have obtained. I really got to play that game at our office and I was the first to have my profile have the gold trophy. It was easy actually while my other colleagues would be shouting and being loud with their expressions when they simply get carried away with the game. I think its no longer in the computer at the office after they reformatted it... Hmmmmm...

• Malaysia
15 Mar 10
No. I have not played before. In fact I don't what it is. This is the first time I heard of it. Computer game for the young at heart?

•
12 Mar 10
hell0! Allow me to be the first here :) well, i have never played that game, but it looks interesting and as I see it is not a "big size" one, which is really perfect because my computer is not that powerful. what is all about? can you tell me something about it?