Do you perceive much more than what is there or?.....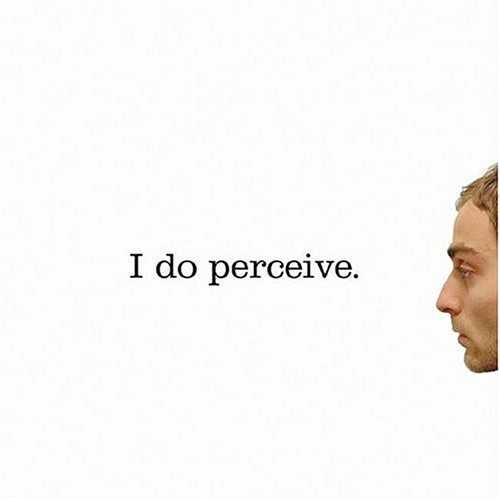 Mangalore, India
March 12, 2010 11:20pm CST
Friends, I was watching my little nephew the other day who sat quietly playing with his toys while we , including his mom were sitting and gossiping.We thought that he was busy with his games and could not understand anything about what we spoke.Later when his mother, was talking to her sis in law about whom we were earlier dicussing, my nephew shocked them both, and more so his mom by saying certain things that we had spoken and discussed...It was very embarassing for his mom and created some uncomfortable moments with her sis in law LOL


. I have seen this happen often, when people take us by surprise.We may think that they have only perceived so much, but they probably have perceived too much... At the same time, there are some others who are not able to perceive even the finer points of a situation,they just take the matter at its face value... What about you all? do you perceive a situation from all angles, may be much more than what others want you to see? or just what is being presented to you?...
3 responses

• India
25 Mar 10
Hello kiran, in my opinion the kids, i mean present generation kids that grow up in an enviornment having amenities like cell phone, computer and reading in public schools are much more important than kids of our days, we should be careful in our talk in behavior in front of them Happy postings, cheers Professor here

• Mangalore, India
30 Mar 10
LOL ...I guess they can teach us much more than we can do ...But honestly, I find the youngsters very smart and capable unlike what we were at their age.I see that my children are much more intelligent and responsible in every way and it makes me happy to see them dealing with all situations in a mature manner.In fact most youngsters are far more responsible than what we think they are..

• India
14 Mar 10
My dear friend kiran, kids are more intelligent than we think. They sometimes make us emberassed. Once two couples were talking about parenting. A kid was playing in some distance. Suddenly the kid said, why you have brought me so early mom. Otherwise I would be now a little baby. There are many stories like this. So we have to be very cautious when we talk to others before our kids.

• Mangalore, India
14 Mar 10
Hi bhanu, thanks a lot for your response

..I agree that we tend to overlook children when they are around and talk of certain sensitive matters which are perceived by them and , they in turn, may tell others about it...All the best and have a great Sunday...

• India
13 Mar 10
Chidren!---- Trust them to come out with bloomers like this. I am not normally good in reading between lines but nowadays I am getting better.Life has given me a few bitter lessons in the past few years and I am no longer the trusting naive self who would take everything at face value.But habit fies hard and very often my usual habit of taking everythign at face value rears its head.My husband pulls me back on such occasions.