broken homes, broken hearts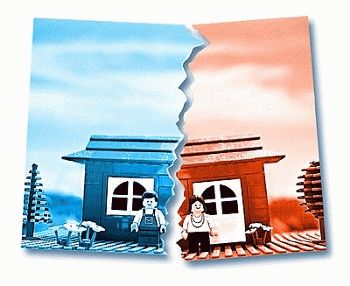 Philippines
March 16, 2010 11:59pm CST
Marriage is a foundation in building a new home where love, trust and devotion must dwell. Out of love, children are added to complete a family. Married couples always start a new life together happily and hope to make it last. Problems and trials come to test their strength and faith, some survived to fight against all odds but others failed to save the previous thing they let loose. The kids fall as victims to their parents' wrong decision. Sharing thoughts from my very own experience, dealing with life's challenges is harder for a child who went through such kind of pain. As couples break apart, it's not just the home that goes broken, their children's hearts are crushed too.
4 responses

• Philippines
19 Mar 10
i grew up in a broken family too.,i also suffer persecution from my boyfriends family because of that.,and it really hurts me a lot.,now i want to prove them wrong.,one day if i have my own family i will make sure that my future children will not suffer what i had experience...

• Philippines
21 Mar 10
We deserve respect,understanding and acceptance despite our family backgrounds. In this cruel world we live, discrimination and misjudgement are just common. You may have difficulty dealing with those things but keep holding on to what you think is right. Living a good life is one big proof for other people to realize their mistakes and unfair treatments on you. Be strong, you can do it!

• Philippines
17 Mar 10
My family is not broken but I have seen a lot of relatives and friends having there marriage diminished. It is really hurting in that way. I think that children are more affected to it. Having to grow without guidance of both parents. I hope that you would be a very devoted mom to your baby. It maybe hard but I know you could and can do it.




• Philippines
17 Mar 10
Thanks for the encouragement my friend. What makes me struggle to become a good wife & best mom is my determination to keep my family in tact since the home I came from was broken.

• Indonesia
17 Mar 10
children who are victims of 'broken home' is usually a lack of confidence, very private and easily offended .... take a relatively long time to deal with children like this ... to parents who run a divorce, before run it, must provide an understanding of divorce to child them, of course with the language most readily accepted by their

• Philippines
17 Mar 10
I came from a broken family but I dealt with it positively. Learning how to accept reality has helped me grow and live normally but the pain still exists up to now.

• United States
18 Mar 10
I can't completely agree with your last line. When the home environment is tense and hostile because the parents don't get along, the children become tense and stressed. Oftentimes they feel a sense of relief when the parents split up but, of course, they also feel sadness as well. Since children learn from their environment, growing up in a household where the adult role models do not love or respect each other does nothing to prepare them for healthy relationships of their own. If a divorce situation is handled well, with both parents remaining involved in the children's lives, they will be emotionally better off.

• Philippines
18 Mar 10
It's alright my friend. We are entitled to our own views and opinions. My own experience is the source of all insights I shared here in this discussion. As you said, sometimes a divorce may be a better solution for couples who fell out of love and respect. Inspite of that, lucky are those children who are still given enough attention and care by their parents - this did not happen to me. I felt so abandoned and it's what makes my heart breaks up to now.