who is you most hate soccer player? and why?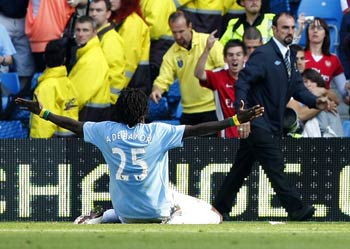 Indonesia
March 18, 2010 8:47am CST
mine is adebayor because he like peanut forgot it's skin. look for his over-act goal celebration againts Arsenal. He also deliberately made Robin Van Persie injured! how bout you?
5 responses

• India
18 Mar 10
The player I hate most is Cristiano Ronaldo.Though I don't have any doubt about his talent yet there are certain things that I don't like about him.I don't like him because of his theatrics..he tries to convince the match officials to blow the whistle for him and not against him .I cannot forget the infamous trick that he applied to take Wayne Rooney out of the game.He made a hash of an innocuous challenge and the referee showed Rooney the red card that dampened my favourite team England's chances of moving any further in the competition.

• Indonesia
18 Mar 10
ah hellow Naxous, thanks for your response bro! =D i do hate CR too. and i have a same opinion with you. That trick to Roonet will cannot be forgotten by England's fans like me! also his Arrogant style really make me sick. both adebayor and CR is ogre,but Adebayor have uglier face than CR. hahaha. =D Cheers! =)

• India
19 Mar 10
If you hate c. ronaldo like me then jon with me on http://www.hateronaldo.com/...... Thnx

• Singapore
8 Apr 10
the player i do not like most that is Cristiano Ronaldo who is betraying his team to run to Real ,he might be a good player one of the best at the moment but that is not a good person who plays soccer just because of money and title ,he does not treasure his team and Mu fan , he will not get anything better .

• Italy
19 Mar 10
For me it's Ibrahimovic. Ungrateful, arrogant, and egocentric. But a wonderful soccer player! Another one I really don't like is old France goal keeper Fabien Barthez and the kisses on his head! Cheers to his retirement!

• India
19 Mar 10
One and Only----Cristiano Ronaldo.... C.Ronaldo is not playing for his country or his club ..He is playing for himself.. He should become an holywood actor.We have seen his acting on the field. He wants to become a fame not a true football player that we can see from his attitude.. and one more reason.. he is very selfish in his game..