This cat loves to sleep in strange places!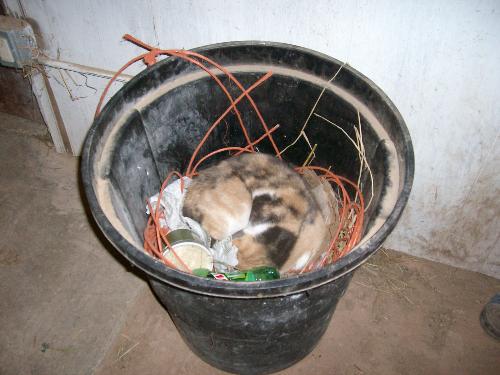 United States
March 18, 2010 1:32pm CST
This is one of the barn cats at the stable I work at. Jane will sleep anywhere! I have seen her sleeping in stalls,on hay,on top of the radio and even on the manure pile! Her newest place has been in this trash can! I think sh'e sleeping on top of a feed bag. Also in the trash can is baler twine and a soda bottle! Jane is one strange cat!
10 responses

• United States
19 Mar 10
ahh, but she's out of the wind and nobody can sneak up on her! and the feed bag makes it at least reasonably softer Heck, I see Star crouching on a single dropped piece of paper towel on the floor - can't be soft, at least she's TRYING to keep her paws warm!

• United States
21 Mar 10
I guess she was tring to keep warm and to stay out of the wind! I do remeber when I took this photo it was cold outside! Jane knew what she was doing! I just thought she was just weird!

• Malaysia
18 Mar 10
Yeah, i think it's quite usual that cats like to sleep in strange places. I remembered in my parents home before, we have 3 cats, which like to sleep anywhere that they feel warm and safe. My cats are always can't be seen whenever they had their stomach filled up. They tend to sleep on top of my cupboard, cabinet or even on top of my car. Only when they are hungry, then you will saw them coming in-front of you, looking for food to eat. I am used to see my cats sleep in strange places since from the day, we started to feed them.

• United States
21 Mar 10
I guess if it is warm and safe cats will sleep there! I always thought Jane was a weird cat but she realy isn't! She knows what she is doing! I just didn't realise it!

• Daytona Beach, Florida
19 Mar 10
I had a cat make a bed out of a shoe box and he was three times the size of the box. But he stuffed himself into the box. It was too cute. I didn't have a digital camera at the time or a camera phone otherwise I'd have a picture for your viewing. I guess that cats the trash can is a good cave.

• United States
21 Mar 10
Now that is a funny story! I wish I could of seen that! Your cat must of been hanging out on all sides of the box! How funny! I'm trying to picture it now!

• Philippines
19 Mar 10
That picture sure is funny! Thank goodness she wasn't taken out and picked up by the garbage truck

We have cats too and I see that they sometimes choose weird places to stay. Our smallest cat is usually on top of the kettle. He's like a teenager cat and so I think he fit right on top of the kettle

He also one time slept in a basin. Another cat would sleep on the back part of the car which is like where to step on when getting on the vehicle. Sometimes, all three of our cats would be found sleeping soundly on top of the car. What's funny is that they sometimes sleep on the edge of the car's roof with their legs just hanging. Also, they sometimes choose the garbage bin (but it has its lid on). Cats sure are cute and funny pets.


• United States
21 Mar 10
Yes cats are silly animals! I never have seen a cat sleep on a car but sometimes when I get to the stable one of the cats jumps on my cat before I get out! She is saying "Hurry Up! I'm Hungry"! I always feed the cats first! If I didn't they would follow me around! I love cats and there is never a dull moment with them around!

• United States
19 Mar 10
She sounds strange, but not really. She is sleeping in places that are warm. And in places where all her humans are all the time. When she is on the manure she is very warm is gives off alot of heat! IT is messy to us but warm to her. Just love her anyway.

• United States
21 Mar 10
No matter were Jane sleeps I will love her! Her owners still love her even though Jane and her buddy Zolla live out at the stable now! Jane and Zolla's woners always ask me how they are doing. They are doing great and they love living out at the stable!

• Australia
19 Mar 10
lol cats seem to always manage to find the weirdest spot to crash huh? for me one of the weirdest place it chose is not too weird but really effected my sleep. of all the places (and all the weird places) in my house it can crash, it will wait till i decided to take a short aftertoon nap and climb over my belly and sleep. and i would wake up because of the extra weight on my chest. oh i miss that cat.

• United States
21 Mar 10
I have heard of cats doing that before! I think that is funny! I know if given the chance all cats would try to sleep on a person or at least on top of the bed!

•
18 Mar 10
Moomin can and often does sleeep anywhere he feels like it. In the tumble dryer, under the sofa, in the wardrobe or under the bath, he's not fussy so long as he can grab his nap. He has a lovely bed of his own that hardly ever gets used, currently Moomin is asleep under my desk and keeping my feet warm

• Australia
18 Mar 10
hi there blue65packer cats sure do sleep in strange places my cat goes on top of the dyer and sleeps there my daughters school bag the cats goes on that and sleep. and sometimes my cats like sleeping in the clothes basket thats all i can think of at the moment have a great time mylotting.

• United States
21 Mar 10
I have seen Jane sleep in a box full of christmas decorations besides the other things I mentioned! Jane and her friend Zolla,I just remember,did sleep on top of clear clothes that were put on closet selves! With my brothers cats,they have 5 now,like to laydown but not sleep in my sister-laws plants! She has huge pots with plants in them! Jane is the first cat I've seen in the trash can sleeping!

• United States
18 Mar 10
That does sound strange, but cats love to sleep where they feel safe. I've found cats sleeping in strange places but most of the time it's up high. We have an old refrig in our barn, we keep meds and cold drinks in it, one of the barn cats sleeps on top of that.

• United States
21 Mar 10
Of all the barn cats Jane is the one who I find sleeping in strange places! The other cats I usually see sleeping untop of haybales stored in the indoor arena or in the hayloft. I have seen some of the cats sleep on top of horse blankets if they are laying on the ground. Jane sleeps inside them!

•
18 Mar 10
I have 5 cats and i have found them asleep in all different places and they are always sound asleep.I find of an evening time when our house has gone quiet then all the cats will come down stairs to go to sleep.I found one of our cats asleep in the bath the other day all curled up looking cosy.There are lots of beds to choose from yet the bath it was.