Who's afraid of rocking chairs?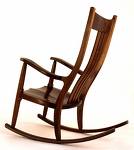 Philippines
March 21, 2010 12:52am CST
I know it's sort of a silly question, but have you had this weird fear of rocking chairs, especially those old, wooden ones that produce a scary creaking sound? When I was a kid, I love sitting on those fun chairs, but once in a while I would have goosebumps every time I see it rock by itself. I then thought that some ghost was probably on it. LOL.

I blame it on those horror movies that always have these scenes.
8 responses


• Philippines
23 Mar 10
You mean the swings in playgrounds? Oh I love them, but I haven't tried the jumping thing yet, haha. I just swing as high as I can, and it really is a good feeling.

But I'd have to give it a hard grip or else I would fall off. Haha. Thanks!



• United States
21 Mar 10
Hey mj! I am such a rocking chair lover! I have two of them myself! I don't care if they creak or not! It is such a nice calming feeling to rock in them! Everyone that comes to my apartment wants to sit in them! I have one in my bedroom and one in my livingroom! They are just about my favorite chairs in my house! There is absolutely nothing to be afraid of! They really are fun!


•
21 Mar 10
Me not

I even want to have some, but still haven't got money enough because the ones I like and have already checked cost more than $100 and I still haven't got that much money and I also must save for my student fees, because I must pay them each month and it would be really hard if I give those $100 for a rocking chair :)

• Philippines
24 Mar 10
Wow, go for it! It's fun sitting there, so probably you wouldn't regret saving up for it, but of course prioritize your studies first. If you finish college and get a good job, you'd be able to buy as many rocking chairs as you want. Haha! Thanks for sharing.


• Philippines
21 Mar 10
im not afraid of rocking chair, in fact i love to sit there as it makes me feel so relax and i feel like im in clouds if i fall asleep there. i guess its only a wind that moves the chair since its a rocking chair and very sensitive to move even if it will only bump by a cat or dog or a mice inside your house.

• Philippines
21 Mar 10
yeah i know that feeling!it's because of horror movies with those scenes when I was still a little kid my cousins and I liked our grandpa's rocking chair we always sit on it,and sometimes my cousins use that rocking chair to tell scary stories and even after we finish the stories all of us are already running towards the door because of the chill wind and the creaking sound of the chair we turned the lights off too..thinking back again makes me feel hilarious..it was so funny we were the ones who turned off the lights and told scary stories yet we were so frightened by it haha :D

• Philippines
21 Mar 10
haha... the effect of being fond of horror movies... Now that you mentioned it, it would really seem to be a little frightening to be left alone in a room with a rocking chair by the window.. hahaha... what a scene... then again, i still consider rocking chairs as one of the most comfortable chairs i know... ^_^