Attractive ornaments in the home

United Kingdom
March 23, 2010 9:02am CST
In my living room I have two black candle sticks, a vase of tulip flowers, two silver vases with shiny beads in and a sparkle like lamp. I have a mirror with a black frame and some swirls. In my hall I have a wooden display case. I have got crystals in it, magnets and model houses from around the world. Do you have any attractive ornaments in your home? If so which ornamental things do you have and in which rooms do you have them?
10 responses

• United States
24 Mar 10
Hey maxi! I love to pick up all kinds of ornaments! They may just be something that I find online that catches my eye or something that I found in a $1 store that looks really like it is worth alot of money and would be perfect in my livingroom! A few weeks ago my boyfriend and I were out shopping in the $1 store and I found some glasses that looked like cocktail glasses. They were black with clears stems and we both loved them and decided they would look great in our livingroom! I had purchased new lamps (that I still haven't received yet) that have black and taupe and are marble looking and the rest of my livingroom is brown, beige and has some black in it! I am trying to bring a bit more black in so that the lamps will fit in with the rest of the brown furniture! I love to decorate and have a great eye for color! Can't wait to get the lamps and see how everything looks together when I'm finished! I also bought a new black piece of furniture that is called an "entryway piece"! It is just right for the spot I wanted it for!


• Malta
23 Mar 10
I am not much into ornaments. But the few ones we have at home are with our taste, that is simple nothing bombastic. I have some pottery items that I have bought during my holidays. We have a fireplace that I really like and is the main feature of our living room and I have an eagle clock that I really like. It was given to us by my inlaws.

• Malaysia
23 Mar 10
hie maximax, its really nice to have attractive ornaments in your home. in my hall, i have a vase of chinese ornamental plums. then there are a glass cabinet of items belonging of family members from their trips locally and oversea. that is my home sweet home, a place of rest, recreation, renewal and love. have a good day, maximax.

• United Kingdom
23 Mar 10
When I was much younger, certainly in my teens I had loads of ornaments in my bedroom which I had collected when I travelled around, I used to like collecting tankards with the place I had visited on them, trouble is because I have moved so many times and some have got broken, on top of the extra weight having to carry around I began to get rid of all my ornaments, I have a complete change round now as I don't collect them because they are dust collectors and they are additional items to be boxed up when I move again.

•
23 Mar 10
Most of the ornaments I have are things which remind me of people, because they were gifts from them, or of places I've been to. For example, I have some wooden marquetry boxes bought in the souk at Tourandot, Morocco, and a pyramid shaped alabaster ornament from a factory shop near the Valley of the Kings in Eqgypt. Another is a handpainted bottle which was a gift from a friend. And among others, I have a vase and candlesticks from a Norwegian factory shop. They are all displayed in my living room.

• Chile
23 Mar 10
Hi maxine, I keep family pictures in my bedroom but have the ornaments in my living and dining room. I like what I have and many of them are from my travels (I have a collection of ceramic dishes in one of the walls). Hug!

• Philippines
23 Mar 10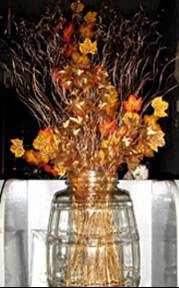 hi at home, we have lots of these type of flowers in vases cluttering about. i will attach photo here.

•
24 Mar 10
I have a large collection of dragons in my home. Pictures, figures, statues, ornaments, dragons everywhere. My favourite is a very large red dragon which sits in the front window of my house.

• United States
24 Mar 10
I have a lot of American Indian figurines in my kitchen. I also have a dream catcher hanging in my hall. My den has bookshelves full of books. I also have some Indian figurines in there and some pottery. I have statues of horses and dogs on my dresser in my bedroom. I also have pictures of horses in there. In my hall, are pictures of my family. My house is so big until it would be hard for me to name all the tings I have in each room, lol



! I'm really big in Indian folklore, horses, and anything about the american west. Kathy.