How would you like to have neighbors like this?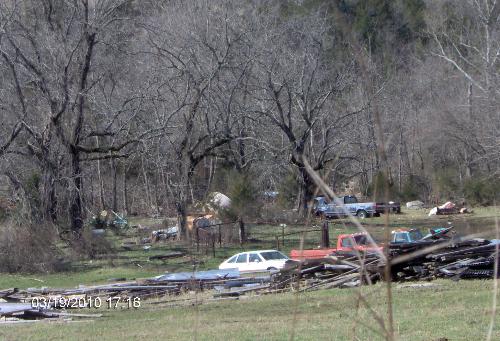 United States
March 27, 2010 8:36am CST
These people live right down the road from us and are kin to our mothers husband. We go by thier home almost daily. We have a real nice yard and this brings property values down for everyone in the neighborhood. So how would you like to have neighbors like this?
6 responses

• United States
27 Mar 10
My response didn't go through for some reason. In any case I have a cousin who has cars in his yard but he lives out in the woods so you'd have to go into his driveway to see the cars. In any case, Here there are places that will tow away a vehicle free of charge for parts, you could always look into it and suggest it to your neighbors.


• United States
27 Mar 10
I suppose they feel it's their right to have the yard a mess like that. It's disgusting that they have it like that without the sensibility that it's making property values go down. Too bad you can't do anything further about it!

• United States
27 Mar 10
oohhh that just makes my skin crawl thinking about snakes, I didn't think about the junk in the yard bringing in snakes but other wild criters yep.


• United States
27 Mar 10
I wouldn't like it at all. Since they are kin...why not make a day of it...a cookout for everyone and everyone helps them clean it up?

• United States
27 Mar 10
What about getting the city involved?


• United States
28 Mar 10
If there yard looks like this and decreases the property value, then I would be very irritated with them. They should clean their yard up. Getting rid of any unwanted cars and tools would be what they need to do. They should want to see their yard in an immaculate condition. If they start getting fined, then maybe they will pick up behind themselves.


• Gold Coast, Australia
27 Mar 10
No, I wouldn't like to have neighbours like this - their yard is disgusting - it looks like a junkyard and it's not right that other people who live in the area have to see it. What about talking to your mother about it then perhaps she could reason with her husband? You are right about critters and snakes - there are plenty of hiding places in those old cars and bits of wood lying around. I know you live quite a way from town, but I would certainly report it to your local council to try and get something done about it. I'm sure these people are violating some rural bye-law. Take a few more photos to show them so they can see how bad it is, and keep pestering them until they do something about it. Perhaps put a petition together and get your other neighbours to sign it, and take that with you too.

• United States
27 Mar 10
Hi Abbey. Mom can't say anything to her husband he is a jack A and don't give a hoot about anything or anyone. So it wouldn't do any good to ask her. She can't even get him to clean up his mess he put at her house. She had to clean it up and that really pissed her off. I don't know if it would help to try and get them to have to clean it up they have lived there all their lives. I wish it would but some of these country folks don't think like we think. But thanks for the suggestion.

• Old Forge, Pennsylvania
27 Mar 10
My girlfriend and have been living in apartments. Imagine having slobs living in the same building!!! My mom has a house on a lake and one person in the area had a similar "eye sore" going on at his property. All the neighbors complained about it until finally the township ordered the people to clean up their property and supposedly fined. It did help somewhat, but the property still looks a mess. Do some research and see if there are any ordinances against the "eye sore". Try calling the board of health, and other city and state officials. Get other neighbors behind you as well, there is strength in numbers. If enough neighbors complain, you are more likely to get results. Good luck!

• United States
27 Mar 10
Hi Tomcat. Wouldn't help we live about 15 miles from the nearest town in either direction. And the people around here are not ones you want to be real close too. This is a small rural area and most of the people around here are big farmers and can't see past their own yard much less any thing else. Some people don't even clean their own yard up. But only a few have yards full of junk. I just thank God we are not that close to these people. I can see it bringing in all kinds of wild critters.

•
27 Mar 10
well, there are so many people like that here in my country, who gather all the junks they have on the street in front of their houses or in their yards and the look to it is almost the same like this here, ans sometimes even worse :) Of course I don't want to have neighbors like this, but we couldn't actually choose our neighbors, right? :)