Are holidays too much for you?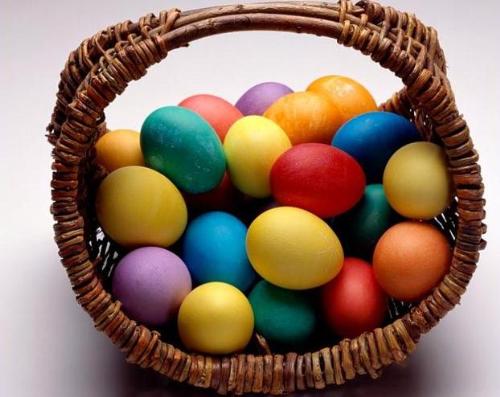 Canada
March 29, 2010 3:48pm CST
In my family, it seems like its always a problem when it gets time to get together for a holiday. Easter is next weekend and of course we're all wondering what we'll do. Im trying to find out what my sister and brothers are doing but they keep saying they dont know. How can you try to make arrangements when you have no idea who will be there? My dad is fed up also as he wants to know what'll happen. Do you feel its too much at times? Would you rather just stay home and forget its a holiday?
10 responses

• United States
29 Mar 10
My family is really easy going. We know that as my brother is a minister, he cannot get away. We go to his house and have tons of fun. Not usually for Christmas, but sometimes. Always for Thanksgiving and Easter. I know what it is like if a family cannot commit to anything. What he usually says is "I am cooking this and this, any one else can bring whatever they like, there will be plenty of food."

• Canada
1 Apr 10
Sounds like you still manage to get together. At least you know whats going on and you can make plans accordingly....good for you! I'll have my father and my 2 aunts over and still dont know what the rest of my family is doing but thats not my problem anymore. At least I can make sure dad will have a place to go and I'll make it as much fun as I possibly can for him. Thanks for sharing!

• United States
2 Apr 10
That is the ticket, make your own fun and let others join if they want to. I am going down early and plan to meet a MyLot friend tomorrow. My brother and his wife will be at work. I can go see my dad also. It turns out I will be singing in Easter service. See how laid back we are!

• United States
6 Apr 10
Hi, thanks for the BR. How was Easter? I got to go meet AmbiePam!!!


• India
29 Mar 10
no they are not. i like to have holidays. they are the mean to enjoy in life. they are the mean to have time for family. they are the mean to have leisure. there are different things we can do in our holidays for which we only imagine while working.

• Canada
1 Apr 10
I feel the same but cant get the rest of my family to jump in for some fun. I think I need to just do my thing and not worry about them. Thanks.

•
29 Mar 10
My partner and I are going away over the Easter weekend, to spend some time with a load of friends. We are camping so I'm hoping the weather will be kind to us, but it does feel like a lot of hassle sometimes and at the moment I am looking at the camping gear and wondering if I really want to go.

• Canada
29 Mar 10
I know how you feel. Im the same right now. Is it really worth it all? Hope you have a nice weekend if you decide to go and the weather is nice. Try to enjoy it.

•
29 Mar 10
Fingers crossed we do have a decent bit of weather hun, have a good time

• Canada
1 Apr 10
I know we will here, they say we'll have a record high temperature starting Friday on all weekend. Sounds like summer will be here early.......oh Im not complaining!!

• Canada
30 Mar 10
Yes, now that my children are grown, we will likely skip Easter this year again. I have a lot of sales now anyway to keep me busy.

• Canada
1 Apr 10
So you're children are not living close to you I gather. Well maybe its just as well. You can have all the chocolate to yourself hehe! Thanks for sharing!

• Canada
1 Apr 10
Not that far away. The oldest lives 45 mins away and the youngest lives 2 hrs away. They are both in their 20's.

• Canada
30 Mar 10
Same sentiments here! Sometimes, I'd rather stay home and not worry about it. Instead of makin a lot of preparations in which you get disappointed anyway. Specially when you have family around. My son is celebrating a birthday this weekend too, so this makes it doubly hard for me. Well, I wish you luck on your easter celebration!


• Canada
1 Apr 10
Wow, you have it double this weekend. I guess you know how it feels then. Well I try to make the best I can and not worry about it all. Happy Easter to you too, try to have some fun then.

• United States
30 Mar 10
i like the holidays and everything , i just don't like it then the rooms get really crowded. i love spending time with my family. and another thing i don't like it when it gets really loud it just makes me want to go outside or in the other room.

• Canada
1 Apr 10
Sounds like you have a very big family then, good for you Lilredneck! Its ok if you go out by yourself for some quiet, dont we all at times? Thanks for sharing

• Philippines
30 Mar 10
Its just fine with me, i mean holidays that is, its the time of the year where in you get to see members of the family and spend some quality time together. Not to mention break from you all day long work and other stuff that your taking care of. It wont hurt to stop and give time for yourself once in a while and be thankful for what youve got, that is a family thats always willing to listen and willing to comfort you when you need it the most ;)

• Canada
1 Apr 10
Sounds like you have a great family Setsuna!! Im afraid holidays are a very busy day for me with all the cooking and preparations but I dont mind. Have a good one with your family ~~

• United States
30 Mar 10
A Holiday is a Holy Day. Being mindful of the reason for celebration could help. Another thing to do is to have a open house and serve a buffet. This is a way to open your home to family and friends and if few show, you have leftovers for the rest of the week. Never blame yourself for the results. Each person has their own priorities which may or maynot include family. I never give a party without thinking at the last minuete what if no one comes. So I just tell myself, well the house got clean and the food will last for several days, so not to worry. Then they spoil all my future plans by showing up.


• Canada
1 Apr 10
Haha, you had me laughing when you said they spoil your future plans by showing up. haha. My family knows that my door is always open. I never run out of food and I always have left over no matter how many come. But thats me and like you said, its great to have leftovers!! Have a great one!!


• Canada
1 Apr 10
This is exactly what Ive decided to do. I'll have dad over and screw the rest of them. Enjoy your easter egg hunt!!

• Philippines
30 Mar 10
when it comes to decision we just let our elder siblings to decide unless theres better option for that, what we just want is to have a vacation in the beach and we dont care of anywhere as long as its within our budget. i guess communication is a must. like in our family one of us will talk, we give idea but whatever our eldest siblings decide and as long as its beach resort then it doesnt matter. what matter is we will be together as a whole family.

• Canada
1 Apr 10
Sounds like a good plan to me, listen to your elders!! Im afraid it doesnt work that way here.....oh and Im no where near a beach to begin with. It'll be hot but we're barely out of winter here. Enjoy your Easter and I hope you're at the beach!