CRaving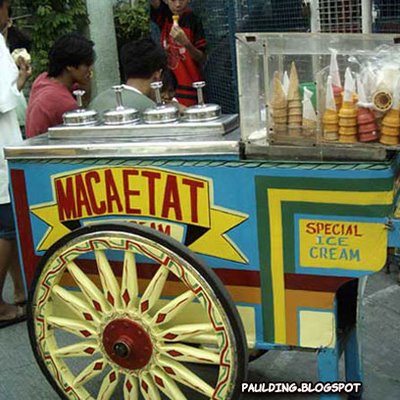 Philippines
April 5, 2010 1:09am CST
[b]Can't help it.. Am thinking of you right now... Can't help it... Just want to feel you...[/b] I feel like eating one today..Are you aware of dirty icecream guys? This is where ice cream vendors sell on the streets.. They push carts and sell this for 5 pesos per cone.. It's very hot today and I feel like eating one.. I hope someone would come by and sell..


Do you know why it's called dirty ice cream?hekhek...
10 responses

• Shingle Springs, California
6 Apr 10

• Shingle Springs, California
6 Apr 10
No, but I've seen those vendor carts here. If they don't have a permit, they're illegal.

• United States
5 Apr 10
To be quite honest I am not sure that I would want to eat icecream off of a "dirty icecream vendor". Why are they called "dirty icecream" is it because it's from a vendor?

• United States
5 Apr 10
I thought it looked kind of like that, I didn't know there was a pic, I think I responded through my email. The only other thing I can think of is if the icecream is too expensive, is it that?

• Philippines
6 Apr 10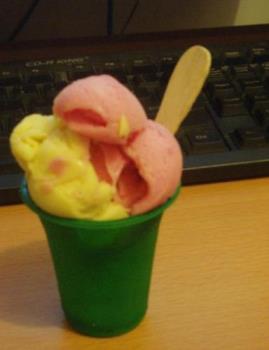 It's not really scg.. It only cost 5 pesos.. It's less than a dollar.. harhar... Well..ms. snugglebunnies said that your ice cream that is delivered through trucks are very expensive and she prefers to buy one on the super market... I'll upload the ice cream. I'ts very ordinary really scg. It's very cheap but yummy for me...




• Philippines
26 Apr 10
of course i know what dirty ice cream is and we have a lot selling them here... i would not tell how it was made.. never mind..hehehe.. but i still eat dirty ice crea... never mind also, they taste like ice cream also so i think there is nothing wrong of eating them right now... with more germs the more healthier.. hehehe

• Philippines
8 Apr 10
Dirty...because they are sold via push cart on the streets... err I really don't know but that is the closest reason I could think of. Love dirty Ice creams!

They're pretty simple and tasty, no rocky roads and stuff just pure cheese and chocolate in action

I'm really not a big ice cream eater but I want to eat those now because it's pretty hot today. I also would like to try the Pinoy "Sorbetes"(Ice Cream) on stick



• Philippines
5 Apr 10
It's called dirty ice cream because it's sold in the streets, as opposed to those sold in stores. It's really cheap but I haven't seen them around anymore. I always see and hear the branded ice creams around. I see them though in the churches selling to children.

• Philippines
5 Apr 10
i understand you..i'm lucky that icecream is available in a store near us...but dirty icecream is also a good reliever this summer....i like the dirty icecream in a monay (sandwich bun)...

• Philippines
5 Apr 10
Maybe it's because they are made differently as well as they have different product presentation compared to those "branded" ice creams out there such as Selecta, Nestle, etc. Maybe the materials used in making those branded ice creams are different (since those big companies has enough money to buy those equipments) than those vendors selling it for 5 pesos. ...Now I'm starting to crave for one o.0

• Philippines
5 Apr 10
Hi yresh, yah its so called dirty ice cream but still people love to it Ice cream sold in the street especially if its too hot.. We call that also Ice cream sold in the street as FLAVOR OF THE ROAD... when there are cookies and cream double dutch mango ube etc etc,, Ice cream in the streets are flavor of the Road... I have a contact which i know that sells flavor of the road ice cream but its not dirty, I personally saw how it was made.. true for some but not for all. duh.!!! dirty but a lot of people eats it and it never cause diseases hehehehe lol




• United States
5 Apr 10
Hmm.... cause they jack up the prices when the weather gets warm? We don't have anyone pushing carts here for ice cream, but they do have an occasional ice cream truck and the items are expensive as well. I think most things were like $3.50 I told my kids we can skip this vendor cause I can go to the grocery store and get a whole box of various ice cream treats for the same amount instead of just one item.