Manila Ocean Park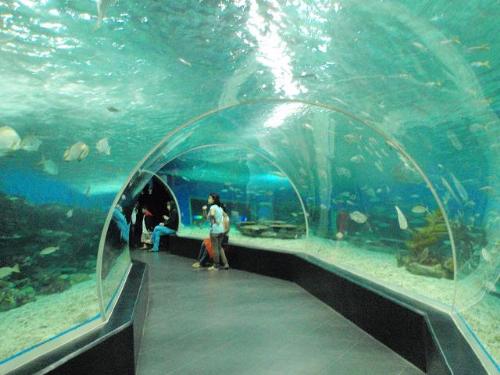 April 8, 2010 11:45pm CST
Have you visited the ocean park in Manila, Philippines. The Park is not that big though but still you will see a lot of different animals and sea creatures that you have never seen in your life before. Last May of 2009 me and my friends just went to Manila Ocean Park to check out what the park looks like here in the Philippines. Here is a photo of one of the sections that you will pass by when you enter the ocean park.
6 responses

• Quezon City, Philippines
10 Apr 10
Been there a long time ago. I do not know if there were additional features in that place to this day. I find it interesting place to be since this is a first here in the Philippines. I like the tunnel where you could see fish swim above you. The fish tank is indeed very large and impressive. I am just not aware if the planned hotel beside it is already finished already.

• Philippines
9 Apr 10
I haven't been there but I hope I can go there soon.I would like to see animals from the ocean.it's like walking on an underground tunnel.the entrance fee is a bit expensive,though.I think that this will be a fun experience.

• Philippines
9 Apr 10
ive been there last month...yeah, it is worth visiting. but i dont like the under water tunnel,cuz it is so narrow and short. and i also didnt like the aquariums.

• Philippines
9 Apr 10
I wish I could go there with my family but at present my finances won't permit me. It's one of the places that my family wants to see. It seems that you're under the sea with the different colorful fishes. Hope we can go there when my husband receive his Christmas bonus on December.

• Philippines
9 Apr 10
I haven't also, but some of friends did, according to them it was beautiful and nice, maybe sometime this year I could pay a visit when I go to Manila.

• Philippines
9 Apr 10
i haven't been there. i really want to go because i think it really is quite an experience. though it is much smaller compared to those from abroad i know it is still beautiful. i given that chance that i could visit manila, i would surely visit the manila ocean park.

•
9 Apr 10
Yes, it is nice but if you have been to other ocean parks already, manila ocean park has no say to the ocean parks of other countries. It is still a good experience though since you will see a lot of new things. but once is enough and I don't think that it is still worth it to go back for the 2nd time.