Have U Ever Seen/Met A politicain Who Has Fulfilled All His Promises?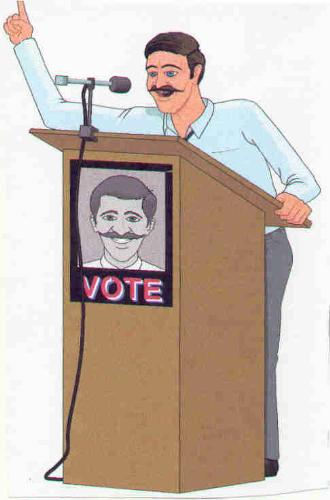 India
7 responses

• United States
10 Apr 10
Actually we have some local guys that have done exactly what they said they would. Our Mayor, but he only served one term and didnt run again. The local puppeteers were very upset with him when they found out he had a mind of his own and couldnt be controlled. He decided politics werent for him. He almost won again after telling everybody he did NOT want to win, people still wrote in his name. It wouldnt have been legit anyway because he refused it. Also, as I have mentioned in previous discussions, our District Attorney. He has been our DA for 6 years. he is now running for the US Senate. He automatically has my vote. He is conservative and says what he does and does what he says. I REALLY hope that Washington doesnt change him! These are the only experiences I know for sure. Oh yeah and Obama DID say he would fundamentally change America and boy is he working hard at that!

• Australia
10 Apr 10
the australian prime minsiter cam to our local town afew yrs back i saw him across the street. one of the young blokes went across the street and introduced himself to him, it was good to watch. then in 08 we had quinten bryce come to my sons school, can't remember what she does. but my son got to meet her. it was all to do with our drought stuff.

• India
10 Apr 10
We can point some politicians of the past as you ask for.But they didn't make any promises like now.Just they did what is good for the people and society.In fact they thought of the common man more than others.We can't expect the same with now a days politicians where they think about themselves and their family alone.

• United States
10 Apr 10
Too many politicians are in it for the job and benefits and could care less about representing you and doing what you want. If you look at may of the state and federal representatives they have held no other job than that of an elected official or a government position.

• United States
10 Apr 10
I met Senator Barbara Mikulski back in the 1970s through my volunteer work with disadvantaged children. This was before she was a member of congress or the senate. I don't know about specific campaign promises she's made because she's been in public office for more than 30 years (so that says something) but I do know that she cares deeply about the state of Maryland and the people who live there. She has strived to help the poor, our veterans, the elderly, to make higher education possible and to protect the health of the Chesapeake Bay, among many other things that I'm sure I'm leaving out. I have always respected and admired her.


• India
10 Apr 10
I never met any these types of politicians yet who has fulfill their all promise during elections.. i think mostly politicians are corrupted.. and every politicians want to earn more and more money.. and for fulfill this they are involved in corruption..