Long Distance Relationships, anyone?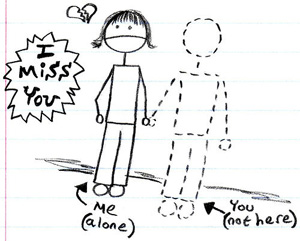 Philippines
April 12, 2010 5:52am CST
What do you think of LDR's? Are you in one? I'm currently in a long distance relationship. I'm in the Philippines and she's in California, USA. We've been together for almost 23 months, but only spent less than 2 weeks-worth of time with each other. How about you? Are you in a long distance relationship? Tell me about your LDR! How long have you been long distance? How long have you been in a relationship? :)
5 responses

• Philippines
12 Apr 10
We are been in a relationship for more than 3 years now, and we been together for more than 2 yrs. Then now we are in a long distance relationship for more than a year. Its not easy on our first month, we are even would like to break up at that time as we can no longer sustain the longing of each other. But we still managed to go on and survived with this long distance relationship. Not really good for a relationship to have this one.

• Philippines
12 Apr 10
I live in Philippines I am here in Davao City while he was staying in Valenzuela City for now. Then after a month he will leave and stay in UK.


•
17 Apr 10
I am also in long distance relationship. It's already about 2 and half years and I am happy to say that it's going well. We first met online when I was in my home country and he was in US. We talked and after talking online for about six months he decided to come to visit me. We met and fell in love. And inbetween these 2 and half years we have met for 3 times, and each time for like 2-3 months. It's really hard to maintain long distance relationship. The most important thing that helps alot in long distance relationship is communication, patience and trust.

• Philippines
12 Apr 10
Yes im one, have a boyfriend who's staying in the US and our relationship took for 5 years but havent seen each other for reall yet coz he's not an American, he's only there for work and for me the most painful but the best relationhip i ever had.

• Philippines
12 Apr 10
I was in one a few years ago and it was very difficult to maintain. It lasted for two years. We were in constant communication but it still was not the same as being together in person. For it to work, you have to have total trust in one another and when that trust is broken, everything goes downhill.

• United States
12 Aug 10
I'm currently in and LDR and while I never thought such a thing could even be possible, after connecting with this person and maintaining our relationship for 5 months now, I can't imagine getting involved with anyone else. Here's a little back story. My girlfriend (I use the term loosely as we're both in our 50's) and I both grew up in the same city, went to the same H.S. without ever really knowing each other well. At least I never paid much attention to her. Apparently when we were teenagers she had a big crush on me as she used to take piano lessons from my mother. Fast forward 35 years, we connected on facebook and began communicating. It didn't take long for both of us to realize there was a special chemistry going on so we began talking on the phone. After 3 months of this I knew the only option was to fly out to California from where I live in Indiana and see what this was all about. Bottom line, we spent 14 days together and couldn't get enough of each other. Now because of our situations, we're looking at the harsh reality that both of us are stuck for the time being where we are. I know at some point in the future this will change but for now we have to be patient and satisfied with occasional visits. The good news is, that when we do get to be with each other the passion is off the charts. Anyway, I'm going to come right out and say that if the relationship is real, the distance won't tear it apart. Good luck everyone.