Do you think Chennai can make into Semis ?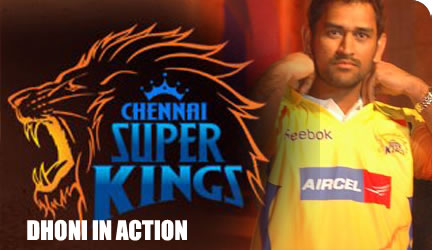 India
April 13, 2010 8:47pm CST
I'm from Chennai..and I'm very happy that they won yesterday's match.They still keep their hope's alive....Next 2 matches are with delhi and punjab..Delhi are in must win position to enter into semi...I want mumbai,chennai,delhi and kkr in semis but kkr now having no chance...If you see chennai is like our Indian team...they lose the easy match and win the tough match...so i just thinking whether they will be in semis and they are playing against delhi next match..they also in a critical situation...do you think chennai will make into semis ? and what and all teams you wish to have in semis ?
9 responses

• India
14 Apr 10
Hi Gany, I think every team with 12 points is having equal chance. But those teams with better net run rate are having an advantage. To look at the possibilities: RR: Have to win against RCB and KKR The chance is that they might lose one match. CSK: Have to win against DD and KXIP So CSK has a good chance to enter semis on current form RCB: RCB middle order struggles against spin. Especially overseas players. So they are unpredictable. They do have a chance. DD: Have to win against CSK and DC They will win one match surely but it depends on their top order. DC: Have to win against KXIP and DD They can win but they are unpredictable. Can crumble any time. So every result will affect the possibilities. Not just result but also the margins of defeats. Because, Net run rate seems to be the deciding factor eventually! So DC and RR have no option but to win both their games but it is difficult for them as they might lose one of their last two games. Especially RR playing at EDEN GARDENS against KKR will be in tough position as KKR would give a real fight as they want to shake off the recent losses. And DC winning against DD will not be easy. RCB need to win against MI in their last match. Though they have defeated MI once but now MI will be eager to return the favor! On Bangalore's pitch MI batting might prove too much for RCB unless they do something extraordinary with their bowling. KXIP and KKR might be eager to spoil others' party! So there will be gripping contest between all the teams. So it is still not clear about who will end up in top four slots of the points table. Happy Mylotting!

• India
14 Apr 10
Oh wismay..you have made a detailed report...good man...thanks... I'm sure of one thing kkr and kings XI will try to spoil other team..and Chennai and RCB having the good net runrate compared to all teams who has 12 points..I hope they can make into semis...atleast I want chennai to make...hope..they will..lets see..

• India
16 Apr 10
@Wismay
: good analyses, what you have written is absoluteyly right. RCB and DC have problems against the spin. So, Mishra, Chawla, Karthik, Ohaja will have fun in bowling to Gilchrist, Gibbs, Symonds, Pieterson,Collingwood and other foreign players but they have to watch out for players like Rohit Sharma, Gambhir, Sehwag and others..
@Gany15k
: Yeah KKR and Kings XI will do spoil the party of other teams that is for sure. I strongly feel RR will be having tough time beating KKR in eden gardens, Kolkata. Mumbai Indians will win because Tendulkar is in great form and Pollard too.. DC is very unpredictable team but one thing is sure is that they will not outplay either Kings XI or DD. They will win closely or they have habit of giving away winning matches.. SO, DD is favorites to win and Kings XI is peacking up at this time of tournament.. RUn rate of DC too is not great like KKR, so, they too have to out play either DD or KIngs XI to get into semis..RCB is having habit of no consistency like CSK, so if they take the coming matches lightly in the thinking that they have great run rate then they are chances of them getting themselves out of the tournment.. THey have to win that is the only mantra here..WInning can make their chances more confirm..


• India
14 Apr 10
I think what CSK did yesterday was issue a statement to the other teams on how strong they are. And that they are beginning to peak at the right time of the tournament. They bowled brilliantly especially young Ashwin and then batted even more better to kill off KKR even before they realized it. Not only did it take CSK to the second spot in the points table, it issues a real challenge to their next opponent, Delhi Daredevils. If Chennai can win that match against DD, then they are through to the semis. Cheers! Ram

• India
14 Apr 10
It is still anyones ball game.They are all playing well and it is really becoming diffcult to predict who is going to win.The team which seems to be the strongest loses at times.My pick for the semis are Chennai Superkings,Mumbai Indians,Decan Chargers and Royal Challengers Bangalore.This will be an exciteing line up and set up awesome clashes.

• India
14 Apr 10
i think chennai will make it to semis. if they won remaining 2 matches ,they will. if they won one game ,still they have chance. hope chennai will do if fine. i am also like to see them in semi fianl.




• India
14 Apr 10
I think Chennai performs his best in that time.. and also they can qualify for semifinals.. because every player of the Chennai gave their best performance.. so it is good for them..

• India
16 Apr 10
Well you forgot to name other two teams RCB and RR. RR should win on KKR then again they will be in contention for semis. DC can spoil the table if they continue their winning stream which they have done in the last two matches. Today DC will take on Kings XI if they lost this match then they have no chance of making to semis. Kings Xi is picking up at wrong time and they won against DD and made DD task to reach semis very tough one.. CSK after superb display against KKR, played poorly against DD. On their own backyard they lost the match which now make their chances to reach semis even tougher.. Coming few matches are very crucial for CSK, DD, DC, RR and RCB. I do not think KKR will make it to semis at all.. One of the KKR match is with Mumbai Indians and another one with RR. If KKR win both the matches then they will get 14 points but they will not qualify for the semis bcoz of poor run rate.. They have to beat RR and MI very comprihensively and that is not possible, if they win closely then no use for them..KKR is almost out, DC has to improve the run rate and have to win all their matches then they can be in semis. BUt they will be playing against good bowling sides like Kings XI and DD. both the teams have good leg spinners and Gilchirst, Gibbs, Symonds are weak against spin and Laxman and Rohit sharma alone cannot win the matches for them.. SO, their task too is tough, DD needs another win to be surely in Semis and same is the case with CSK and RCB. DD, CSK, RCB have good depth in batting and bowling. RR will relay on Shane Watson and Y Pathan if they fail then no one who is match winner for them.. Shane warne has to come up with some strategy for his team to be in semis.. Expect Kings Xi, all the other teams have lot of work to do and Kings XI can spoil the party for DC and other team..