Is the Proton Exora available in your country?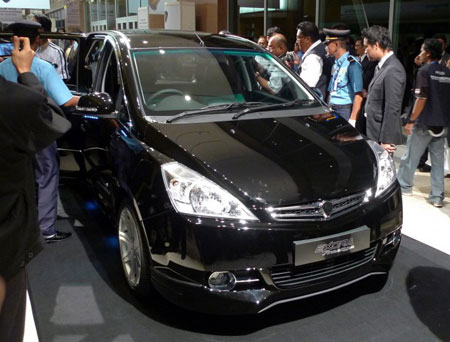 Singapore
April 19, 2010 1:27am CST
When the Exora was first launched about a year back, they were sporting a 1.5 litre engine. The space for this car is very impressive. The interior can easily sit 7 adults with ease and comfort. And the additional air-con blowers at the back to cater to the second and third row passengers are a welcome addition. The finishing were not too bad for a car within this price range. And the accessories provided as part of the car were quite good, given that comparable continental brands do not even have them as standard. Bringing the car for a test drive, I personally felt the car was under powered for the 1.4 ton car. BUT recently, the unveiled the same car with a new engine. It is the 1.6 litre CPS engine. There were a lot of rave reviews about how much better the improvements are in terms of performance and ride comfort. In fact, the response was so good for the second generation of this car with the new engine, it was sold out for a short period of time. Now, Proton has announced that they will be unveiling the latest version with a turbo charged engine! Boy-oh-boy~~~! Just listening to the reviews on the web, I am already drooling! I sure hope I can get the chance to test drive this car. Heh heh... How about you? Would you get this car for your new ride?
2 responses

• Singapore
21 Apr 10
Seems like u really like proton cars alot huh?? haha =D What makes it so attractive to me, other than price, which i think is a main factor too?? hehe

So far, none of my friends owned a proton car, as they dun quite like it.. haha =D BUT if u ever did managed to buy the car of your dreams, do remember to come and drive me around in it!! haha =D Just kidding!!

• Singapore
21 Apr 10
ha ha ha ha... maybe I do. I dunno. It is just that after driving one myself, I find the car to be a pretty good one. Comparable to many of the other brands you can see on the local roads. But price wise, for a new, off the showroom car, it is not really that cheap. If I ever do get a proton myself, will let you know.


• Indonesia
19 Apr 10
Exora Proton MPV vehicles already exist in Indonesia. 7 Seater MPV official price was Rp. 175 million, while Proton Exora automatically transmit Rp 185 million. And Exora complete, have price of Rp 208 million ... seen from the price, I think the price is quite cheap cars, affordable .... same like you, I also thought to be driving this car