How often you and your family go out?

Philippines
April 20, 2010 2:38am CST
I miss going out with my family, I can't even remember when was the last time, we usually go out every Sunday, but now I can't een hardly remember when was that last Sunday that we went out. How about you? when did you last went out with your family and where to?
8 responses

• Philippines
20 Apr 10
We used to go out every weekend but as the kids are getting older it's no longer a practical thing to do since you need to have at least a few hundred pesos to spend if you want to have a good time. It's really hard to refuse kids in eating out especially is they see jollibee. Now, we go out every payday this way, i have enough money so we can eat out and have fun at the same time.

• Philippines
3 May 10
I and my wife live alone here in the metro so we only have ourselves we call as friends. We go out every weekends.. It helps to release the stress of the week's work..

• India
20 Apr 10
I and my family members used to go out atleast a day in a week. This keeps our relationship more close as we spend more time going out.

•
20 Apr 10
When I was a child it was a tradition that our family went out on Sunday afternoon, mostly to the local park. These days I don't have any family left close to me but I still like visiting the parks.

• Philippines
20 Apr 10
My family goes out for picnics and travel twice in a year. One for traveling to another place and another for having picnics like go to the beach or the swimming pool. I love traveling with my family cause I dont have to spend a lot of money cause my parents always pay for them.

• Philippines
20 Apr 10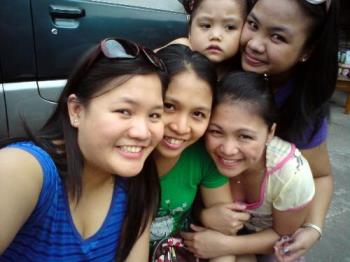 usually since me and my siblings graduated in highschool days,we usually go out evey weekends,specially when there's occassion.whole family bonding is taken.but our parents,specially our father didn't really like going out because he is a thrifty kind of person.but sometimes he's like kill joy.so,me and my siblings with our niece usually go out spending time on mall.we hang out for a reason,if there's something that is really important to buy and check out the new mall nearby.or there's a sale in some areas.we have limited time also because we have different works to be done.


• Philippines
20 Apr 10
We go out every Sunday to the mall. It is like a routine we do every week after a tiring week work and all. This helps us all relax. From the stress free drive to the simple walk inside the mall.