Are you happy with your own crafted jewelry?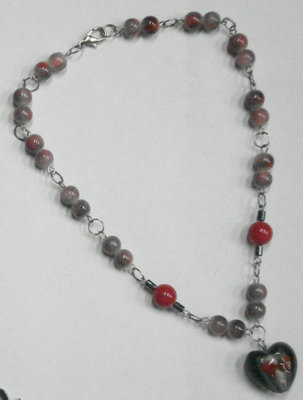 Philippines
April 27, 2010 9:38am CST
I started designing my own fashion accessories three years ago. Currently, I have lots of collection on different fashion accessories. I love the accents of these pieces that I have on my clothings. Have you tried making your own jewelry? Are you happy with the pieces that you have?
4 responses

• United States
30 Apr 10
I am happy with the jewelry I create. I design wire wrapped sea glass jewelry, and I design the jewelry in a style that shows off the sea glass...it's a very simple wrap, that doesn't take away from the beauty of the sea glass. I know I can create much more involved wraps and perhaps I've lost some sales to jewelry-makers that do more involved pieces, but right now I'm making what feels right to me, (and what I prefer to wear) and I guess my customers like the designs also


• Philippines
1 May 10
That is a nice piece of jewelry that you just described. Good luck on your next project. Happy mylotting:)

• United States
28 Apr 10
I have recently just started making jewelry and I seem to have a knack for it. After some praise and a few requests I started selling it on Etsy even. I like to make beaded jewelry but I do not like some of the things I make yet others love them. I think it is because jewelry it's self is meant to be a bit gaudy and I am more simplistic..lol, but if others like it and it sells I am not one to complain just wonder at it.

• Philippines
1 May 10
Wow that is so nice. I agree that every piece of jewelry doesn't fit to everyone. It's gaudiness or simlicity will fit the right person's unique personality. Good luck on your next projects. Happy mylotting:)


• Philippines
28 Apr 10
Thanks for the appreciation jimmysun. Hope to see some pictures of your crafts when you have time to do so. Happy mylotting:)


• Philippines
27 Apr 10
It is always good to try our talent even if we think we wont do it good. At the end we will be surprised to create a very nice piece that we can wear with pride. Happy mylotting:)