Being a Mother is the Hardest Career I've Ever Know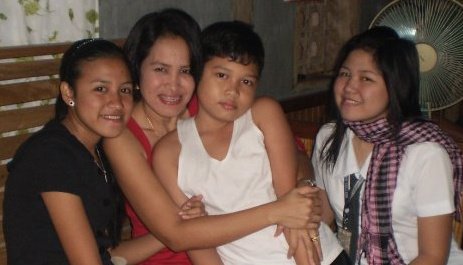 Philippines
May 1, 2010 2:01am CST
Mothers day 2010 is past approaching.All of us valued our mother as the greatest gift we have.She is the person who teach us and nurture us in the right directions.When I was a teenager sometimes I get offended with my mothers advices,But when I already become a mother I realized that all my mothers advices are right. Sometimes got irritated early in the mothers when my mothers starts here homily,telling us about the things she doesn't like.Now as a mother I really feel that this is the hardest career jobs I ever know. I always say this to everyone,I am a cook, a housekeeper, a teacher, a nanny, a referee, a nurse, a handy woman,a maid, a security guard, and a comforter.I don't get holiday, sick pay and a day off. I work all through the day and some of the nights. I get paid with hugs,kisses and I love you's. Now tell me any harder job except being a good mother?
8 responses


• Philippines
1 May 10
Thanks,and maybe you too is one of the best dad in this world.Always been a good mother to my kids.

• Philippines
2 May 10
I agree with you 100%. A loving mother would never bother to eat a slice of pie but instead offer it to her child even though she hasn't eaten enough. What kind of work will give you no pay, no incentives, no holiday and no coffee break? Only being a mother! The only rewarding moment of a mother is to see their children laughing and happy. And the only peaceful moment a mother would have is to watch their children sleeping peacefully. Not only a mother is a cook, nurse, maid and a teacher, but also, a mother is a courier and a shield. That she is willing to carry every pain and sacrifices this world can throw to her children. A mother possesses a bulletproof shield to spare her children from devastation brought by negative elements in this world. There are many poems especially crafted for the mothers out there. One of my favorites was To My Mother written by Edgar Allan Poe. You check his poem and many other poems about mother. just follow the link below: http://www.indobase.com/holidays/mothers-day/poems/to-my-mother.html You can use these poems and offer it as a gift to your special mother. Try it out.

• Philippines
2 May 10
Well said and definitely that's the reality of being a mother.A mother can sacrifice her own happiness just for the sake of her children.Happy Mothers day!!!

• Indonesia
2 May 10
I am not married yet, and of course I want to get married and have a family. I agree with you that being a mother, especially in this era where technology is transforming us, is the hardest job. My mom decided to give up her career in government office after my oldest sister was born ( I am the youngest of two, all girls). My sister is married with 11 year-old kid, and she is a freelance graphic designer. She doesn`t want to have full-time job so she can have more time for her son. How many kids do you have?

• Philippines
2 May 10
Hi there.. Yes being a mother is a tough job,sometimes you have to scarifice many things just to fulfill everything you want in your family. I have three kids, two girls and one boy.The eldest is a third year BSPHARM student,the second one is a first year nursing student.The third one is grade six.

• United Arab Emirates
1 May 10
I have to agree with everything that you had mentioned. Being mother is really tough. My mother used to tell me that you'll understand everything once you had crossed the bridge to motherhood. Guess what? She was right all the time. If only I can turn back the clock and had listened to her, then maybe, I'm now the most successful person in the world. Unfortunately, just like any other children, I chose not to listen and my life is now in a terrible bind. Good thing is that my mom decided to love me instead and encouraged me to stand up every time I fall. My mom is really heaven-sent. I now make it a point to listen to her no matter how difficult it may seems. The saying "Mom knows Best" is the epitome of all quotes associated with motherhood. Love her while she is still with you and thank her all the time. Advance Happy Mother's Day to all Mothers!

• Philippines
1 May 10
Sometimes we don't see the value of the person when she is still with us,But one day if she is lost,then thats the time we realized her worth.Everytime we fall,everytime we followed the wrong directions our mother is always there to correct us. Mother never tired to do that,even though we know that we hurt her,but still she can keep it and continue to love us.Cheers to all the mothers in the world.Happy mothers day.

• Philippines
1 May 10
mothers never stop working. a mother's job description includes all that you listed and more. it seems everyone expects her to be able to come up with a solution to everything. mothers know best. mothers are super heroes! happy mother's day.

• Philippines
1 May 10
@Chary
, yes mothers know best,she never stops giving advises to her siblings,eventhough she is tired but still she wakes up early in the morning to perform her task again for the wellness of her family...Happy mothers day..:D

• Philippines
1 May 10
you're right about that, that being a mother is one of the hardest roles to play. i say role because for me it's not really a job. well, it becomes a job, and a tiring one at that, only if it doesn't come from the heart. some are like that too, those who think they are not cut out to be parents and all. but yes, it is probably the most tiring, but most rewarding too. i believe that we need good mothers to have a better community and future. sometimes i can't help but feel that maybe parenting is being neglected and as a consequence affects the society we live in today. but that i think is deep thinking, hahaha.

• Philippines
1 May 10
Yes gave our salute to all the mothers out there.Community needs good mothers for a better future,I always believe in that.HAPPY MOTHERS DAY...!!!

• Philippines
1 May 10
Yes, you're absolutely right being a mother is the hardest career in our life. Like you when I was on my teenagers age I also got easily irritated if she wouldn't want me to go with my buddies to have fun, but then I realized that it is for my sake also as with the saying "mother's knows best". Now I am a mother also of 2 kids. I also feel what my mother's feelings for me when I never listen for her advices before. For all the children honor your mother and always remember that without them we never exist in this world, and for that we should always be thankful for all their loved and sacrifices that was given to us. Congratulations for all the mothers...I salute you!!! (---as to myself):):0)

• Philippines
1 May 10
Yes,salute to all the mothers out there...HAPPY MOTHERS DAY...!!! Mothers knows best.

• India
1 May 10
I read a small article about something similar, long back, though it was about fathers, but its all the same its like when you are 2, your father gives you a toy, you say he is the best when you are 9, Your father took you to a amusement park,, you said he's great when you are 15, your father scold you for a mistake, you said he is bad when you were 18, he slapped you for arguing with him, you said he is the worst when you were 24 and got married he blessed you, you didn't bother when you were 30 and had your own kids and realized, You said, Your father was the best!!!! this is a cycle i don't remember those lines accurately, but father or mother, its still the same, right? first we say they are the best then we say they are no good then we are in their place someday and then we realize that they were right and they were the best so if You say harder job then being a good mother, there are harder things to do, i wouldn't count as i don't want to offend anyone, but being parent is not hard if You WANT to be a parent Parents should not think like this, parents should enjoy with their children, then it will be easy, if you are not going to enjoy with your children then this might turn out to be the hardest job ever, but then, if You understand your children well and knows what to do, then its easy