Paypal & Alertpay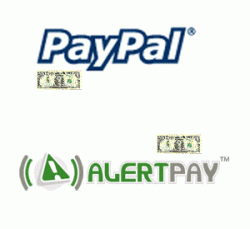 Philippines
7 responses


• Bulgaria
2 May 10
Yes, I am agree with you, Tluanga.

Most of the sites are accepting PayPal and that is one of the reasons that makes me prefer PayPal.


• India
2 May 10
Hi! when comparing Paypal and alertpay, Paypal is the best .As the personal account in the paypal has unlimited transaction for free.But in Alertpay ,there is a limitation of only upto 400$ for personal account.Also Paypal is accepted as a payment processor in many websites than Alertpay.Both are secure.

• United States
2 May 10
I use paypal mostly. I enjoy the fact that they have a debit card...It makes it very easy to pay bills, go shopping or get cash out if I need to.


• Cambridge, England
2 May 10
Both, depending on the site and who they support/pay through. MyLot only pays through PayPal, so you have no option there (they also don't pass on any charges: what you get is what you get).

• India
2 May 10
I have accounts in both the places. But Alertpay had something weird with it (I don't even remember

), so I just keep away from it. Paypal is more customer-friendly. Besides, many sites pay through it primarily. Those which pay by Alertpay, I don't join there anyway!


• Hungary
2 May 10
Hello! Well, I have account on both payment processor site, but I prefer Alertpay, cuz many site charges some transfer fee for your withdraw by Paypal, so you lose money with it! Have a nice day!

• Bulgaria
2 May 10
Hi, JP. For me PayPal is much better, because it is easy to verified your account - you need only Master Card or Visa (credit or debt card). I have accounts in both of payment processors, but I use only PayPal. I don't know how is the tax rate for the withdraws in AlertPay, but for Paypal is 2.50$ I like it and I use only PayPal. PS: I also have an account in Liberty Reserve, but there is no option to withdraw my funds to my bank account, so I don't use it...