is your cabbage safe to eat..........??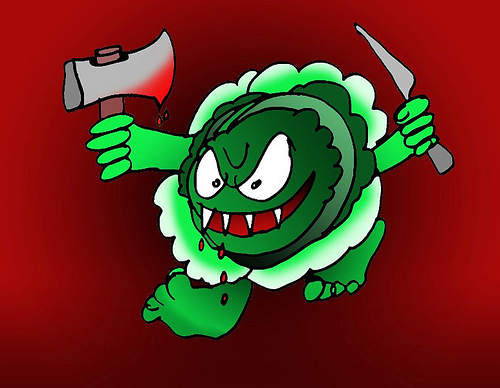 India
May 3, 2010 11:19am CST
hey you all myloters i wish you all are right and njoying life,.......well this is a serious topic i am generating to ensure your safety....... one of my friend got infected from some insect . he started getting pains in his head and when shown to doctor , he was told that he is infected by certain virus that comes from cabbage.....that virus grows in cabbage in fact not virus it is a kind of insect that can be viewed from naked eyes...... but the most important fact that it does not dies even if you are boiling your cabbage.only way to kill them is to kill them...yes .....my friend died, Doctor said that that insect goes into the patients brain and start eating its parts....leaving the patient dead..in few months.... remember the most important thing of that insect is it is small and it doesn't walks but jumps but before jumping it compresses its body a little...... so friends next time you eat your cabbage check it well for that insect and even if your brain is paining then show the doctor immediately.......and yes treatment for this insect is almost not available.........
4 responses

• India
4 May 10
Hi friend, Till today i haven't heard or read any thing like this. Perhaps,cabbage is widely used in the china.No doubt is is regularly used i the India too. If your intense is only to joke than it is okay.Otherwise this seems like a fiction story. Well,nice day.

• India
4 May 10
no man seriously i didnt mean to joke that really happened why would i joke about such a real thing........

• United States
4 May 10
Hi, himan. If this is true. I appreciate you for sharing this information with us. You could very well have saved many lives. I love cabbage, but I don't cook it like that. This is very shocking here. I guess the farmers really need to check their produce before putting this into the grocery stores.

For this insect to get stuck on any cabbage, can be very scary.


• Indonesia
4 May 10
Hi Himan! That scary but I personally don't think its true. I think virus in insect can not infected cabbage or human because they have different DNA code. Its like will never get cabbage infected by HIV by pee on it. Virus can not live to long in air. But I don't like cabbage to much anyway.

• Cambridge, England
3 May 10
Although I can't find any reference for it, I strongly suspect that this is an urban myth or, at the very least, a distorted account. There is, indeed, quite a high incidence of human intestinal parasites to be found on cabbage (and other leaf vegetables) in some markets, especially where the vegetables have been grown in ground fertilised by sewage waste. Thorough washing and, certainly, proper cooking will kill these organisms and they are all intestinal or skin parasites. There is nothing that will burrow into the brain.