Dog Food Saver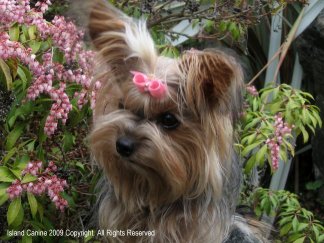 Canada
May 4, 2010 1:05am CST
I came upon an awesome idea I want to share with my fellow dog friendly MyLotters. I have never fed my dog wet dog food but in changing her kibble diet, I came across a brand called Blue Buffalo. Check it out at http://www.bluebuff.com/ The reason I am changing Roxy's food from Royal Canin to the Blue Buffalo is to avoid the fillers. I find that when I pick my dog up and set her down, there is sometimes hair left on my shirt. She is a Yorkie, Shitz Tzu and Maltese cross. She shouldn't be shedding. I think it is her diet. In any case that is why I am changing her food. When I was purchasing the small bite kibble made by Blue Buffalo, the sales person filled me in on the history of the food and talked about his own Shitz Tzu. The man claimed that he also feeds his dog the wet dog food mized with the kibble. Well I cook for my dog twice a day and she free feeds on the kibble. I took a look at the wet dog food and thought I'd try it. The result is she loves it. The man told me that by the time I am half way into the can the food will likely be bad. (A little goes a long way, especially for a six pound dog!) He said that what he does is he gets an ice cube tray and fills the sections with the wet dog food, freezes it and then wraps the frozen cubed food in saran and bags it for the freezer. He leaves on in the fridge and then every night at feeding he takes one out of the freezer and puts it in the fridge and takes the one out of the fridge to feed to his dog. This is a brilliant idea, don't you think? I am on it and is working fabulously. I am so pleased that she loves the food too. It is a back up more than anything. I will likely continue to cook for my dog and I add about a teaspoon to her cooked food, morning and night. She cleans her plate up like crazy. So to keep your food fresh and longer lasting I suggest designating an ice cube tray to your dog and trying it. This obviously will not be appropriate for large dogs as they would eat more per sitting but for the small ones, this is perfect. Does anyone feed their dog Blue Buffalo by the way? Wet or dry? If so, what is the main reason that you feed your dog this food?
6 responses

• United States
4 May 10
I love hearing stories of people switching to better foods for their pets! I work in an independent pet supply store, and we carry mainly high quality foods that do not have fillers Royal Canin, Science Diet, and the grocery store brands do. So I'm glad to hear you've made the switch. :) I think I had heard mention of the ice cube tray idea before, not only in conjunction with wet food, but with raw diets as well. I'm a big advocate of feeding raw food for both cats and dogs (and a few others, too, ferrets being one), they benefit so much from it. Customers come in and ask us on occasion if we carry Blue Buffalo, but we do not. Now I believe this is actually because it's only carried by either Petco or Petsmart, but please correct me if you know otherwise. I know Purina recently decided to only sell its products to large chain stores, so perhaps something similar goes on with Blue Buffalo.

• Canada
4 May 10
Hi Catkin, thank you for your response. I love the ice cube tray idea! I have fed my Yorkie Raw Organic (we grow) beef but somehow I have a hard time with it because of her hair. I don't want raw food (meat) in there although I do wash her face after she eats.. I know many are high on the raw food diet and I understand why, it is just something I haven't quite taken to as of yet but my Roxy sure did gobble it up! If you check on the Blue Buffalo website, they do let others carry thier food other than Petco or Petsmart. Check it out here: http://www.bluebuff.com/products/retailers_results.php?ca=1&radius=50&set=zip&do=zipcode&submit=submit&zip=V9L%204R8 It is a great food for sure. I love the idea as well. Additionally, you can see the stores that carry the Blue Buffalo by going to their main website and putting in your zip code. See here: http://www.bluebuff.com/ That's be awesome if your store began to carry this food brand because it is a high quality, human grade premium food. Thanks again for your response. The more I hear of raw food diets, the more I think of allowing my dog to have it. As for now I cook her steak just a touch so to try to avoid as much as the saturated fats as possible.

• United States
4 May 10
Ahh, very good to know, perhaps I will be able to persuade those in charge to consider carrying it. It's possible we just may not have the room for it, what with all the other brands we carry. Among those that we do have are three of Natura's lines (EVO, Innova, and California Natural), and one of the top grain-free foods right now, Orijen. I also recommend Taste of the Wild to many people who are wanting to try grain-free but are wary of the cost. :) If you are ever able or want to, you can also give your Yorkie frozen raw bones (of an appropriate size, of course). They work wonders for general dental health, what with all the enzymes that are still intact on and in the bones! Even something like frozen chicken necks from the grocery store are a decent treat, though I'd recommend trying to get organic for that, too.


• United States
4 May 10
Although I do not currently have a dog, if I did, s/he would get moist food not dry! Yes, the freezing food in ice cube trays is a good idea, in fact I do that with people food, such as fruit for smoothies and gravy etc. Yes, it is very likely that the shedding is related to nutrition.

• Canada
5 May 10
Hi drann, I understand why you would feed wet not dry food if you had a dog. Although I like my dog to eat her kibble for the nutrition but also for her teeth. It helps scrape them as she crunches on the kibble, therefore helping keep her teeth clean. Small dogs are notorious for bad teeth, often time having to have many pulled before they even reach five years of age if they don't just fall out. Dental care for all dogs is extremely important. Bad teeth and or gums can lead to real problems. Thus is why I brush my girls teeth daily and so is why I don't mind feeding her the wet dog food but encourage her to eat her kibble as well. So far so good. This is the first time I have fed her wet food beside that which I cook for her twice daily. Oh and another thing that I freeze in the ice cube trays is guacamole. Yum and works great. The avocado remain green! :) I agree that the shedding may be due to nutrition. The food I had her on before was fortified for the Yorkshire Terrier breed. Since my dog is a Yorkie cross, it is likely that it wasn't doing what it should for her so I am hoping that this new food will help her hair. She really likes the food and appear happy and energized. Thank you for stopping by and responding.

• Canada
5 May 10
Nice drann, the dog looks partially Husky type. We had a husky malamute once and was a serious beautiful dog, very protective as well as super smart. Good choice if you are interested in a medium to large size dog. The picture presents a beautiful dog. Thank you for commenting.

• United States
4 May 10
Wow, this person was very helpful and provided you with great information. I have never heard of this brand of dog food. I am going to check it out. I also have a small 15 pd. dog. I always worry about what to feed him. He seems really picky about what he eats. I have been giving him Beneful for a while now, because he seems to like it. I think if I can find this brand, I will give it a try.

• Canada
5 May 10
You said this so well Catkin, thank you for contributing to this discussion. More people need to be so better educated. Thank you so much for this! hmkoct; Hello and thank you for responding. The salesman was extremely helpful indeed. He actually showed me two other kibbles prior to the Blue Buffalo Food. (no it isn't actually buffalo meat, it's just the brand name :) Once I looked at the Blue Buffalo, I knew it was for my dog to try out. It was then that he went into the great detail about the history of the food and how it helped his own dog and why he went to that food himself. He then gave me the food saver tip, using the ice cube trays. The tip is especially useful when feeding a small dog that doesn't eat as much as a bigger dog, so to not get half way through a can and then it has perished. I was most grateful. What is more is that my dog is somewhat of a picky eater in that she gets bored easily. The brand offers several flavors which is good and my dog seems to like both the dry and the wet food. I am not too keen on feeding my small dog wet food as it isn't the best for a small dogs teeth but since I brush my dogs teeth daily, we seem to be doing good so far. Take note of Catkin's advice. She is 110% right in what she says. Know what every ingredient is in your dogs food and research it. You wil soon be equipped with the reason behind the knowledge that Catkin shares. I am very picky what my dog eats. I want her to live a long time but I also want her to be getting the best nutrition as possible. Also just because a dog food may say it is premium and human grade doesn't mean that there isn't still ingredients in it that are not useful or even healthy for your dog. IE: corn gluten meal and all the rest of it. Avoid any dog food that has anything corn in the first few ingredients. I avoid anything with unbleached or even whole wheat flour in it too. Including dog treats. Sugar is another one that is so not what I want my dog to have. The link that Catkin provided is useful and is a real eye opener isn't it? Beware of grocery store dog food. Go to a pet supply store and shop for your dog there. Paying a little more is worth it for the longterm health of your dog plus you will find that your dog will need less because he is getting much better nutrition from a better quality food. If you got to the Blue Buffalo website, listed in my initial discussion, you can put in your zip or postal code and the site will show you where you can pick up this food. I can recommend it at this time. If your dog doesn't like it, usually you can return the food within sixty days for a full refund. This stands for almost all dog food. Any food that I have ever bought anyway. Also, I find that the blue buffalo brand is actually more affordable than some other high quality dog foods. I am really glad that you stopped by this discussion. Thank you for your response.

• United States
3 Jun 10
I used to sell Blue Buffalo for a living. Glad you love it. My cats are on it.

• Canada
3 Jun 10
Nice! I didn't know that one could be a distributor like that. It is an awesome food hey? Well my girl still loves the wet Blue Buffalo food but three days after having her on the small bite kibble, she stopped eating it. Disappointed needless to say. Well she is back on the Royal Canin. She seems to always be up for eating it. Thank you for your comment!

• United States
3 Jun 10
I wasn't a distributer, I was a demonstrator at PetSmart. Even though it was more like talking the virtures of the sales up.

• United States
4 May 10
This hint is just common sense, I've been feeding dogs for 0+ years and never thought of it, when I think of all the half eaten cans of dog food that have gone to waste I feel stupid. Thanks

• Canada
5 May 10
You are most welcome and I know what you mean. After the fact, I said to myself, why didn't I think of that! It is a brilliant idea and works great too. Thanks for stopping by!

• United States
4 May 10
This is definitely interesting to me, and I will be looking for more information. It's such a good idea. I feed my Sherlock Nutrish dog food, the one that Rachael Ray founded. I got a sample of it, and was eager to see if Sherlock liked it because of Rachael Ray's background. I don't watch her shows, and don't have much interest in them, but I know how much she loves dogs, and how she champions a lot of canine causes. So I figured if any dog food would be safe and good for Sherlock, it would be this one. And Sherlock just loved it! I am wondering if I should mix wet dog food with dry. My vet says it isn't important, that it is just a tactic from companies that want to sell wet dog food along with dry dog food. But I don't know if all vets feel that way. Obviously, Sherlock likes wet dog food just as much, if not more, but it has definitely been easier keeping his teeth cleaned when he is only eating dry dog food.

• Canada
5 May 10
I am going to look into this food. I am aware of Rachel Ray and her love of dogs. I did not know that she founded a dog food though. Thanks for the tip. The guy at the store when I bought Roxy's Blue Buffalo said that he mixes the wet food with the kibble and his dog loves it! I figure why not. I do not see it as a sales tactic at all. I want my dog to get good nutrition, period. I feel Roxy needs to eat more kibble, as I cook for her twice daily so I am prepared to mix her wet Blue Buffalo with the Dry Blue Buffalo kibble. I have already and she gobbled it all up like there was no tomorrow so it's working nicely for me. Why no just try it and see what Sherlock thinks. Let him tell you if it is okay or not :) Oh yes, dental health is a major factor when it comes to wet dog food. Small dogs especially. I brush Roxy's teeth daily so I think I am okay in that department but at the same time, I will keep a close eye on her teeth since this wet dog food is only something new we have started. Not something we have ever done in the past. Check out the response above by Catkin as she speaks of dental health. Thank you very much for your response. Great to hear from you!