How do i quit SMOKING?

United Arab Emirates
May 5, 2010 8:30pm CST
I am a smoker and i think am getting addicted. I am trying all possible best to stop but it ain't easy especially when you are bored, you smoke feeling you are doing something to keep you busy. I started smoking when i lost my brother and my girl had to leave me too at very close intervals, just 3weeks, this happened early last year and i started using nicotine as therapy, now it's taking too long. I am losing the will power, whenever i stop it's for a short interval maybe a month, although i had smoked before and i did stop, now i can't help but smoke. How do i stop ?
8 responses

• Philippines
6 May 10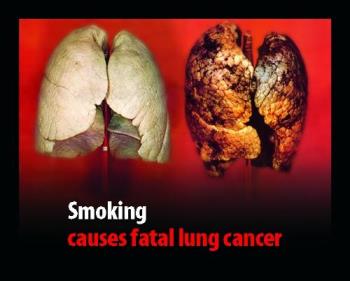 i'm not a smoker, but i do have a lot of friends who smoke and most of them want to stop smoking. they sometimes ask me how i avoid smoking when almost all of my friends are smokers. i use pictures to simplify my explanation.. here's one of those pics, hopefully it could give light to your quest..

• United Arab Emirates
6 May 10
Hey friends, good picture from you to remind us smokers what we getting into, it's a huge problem without cure, promise not to smoke for the rest of the week. Let see if i still got the balls, will let you know if i did it. Am so happy for you aout not smoking when your friends smoke, quite some strong motivation. Keep going and never look back at it.

• Philippines
7 May 10
well.. it may not do much for the hardcore smoker.. but somehow, new smokers get an idea of what's in for them when they become addicts.. a few people saved by those little pics is better than none at all..

• United States
6 May 10
I can't stop smoking either. I use to just do it once a blue moon, but then, about six years ago i went into very strong. The longest i can stop is maybe six weeks, because at about week number four, i'm a mess. I've tried everything and nothing worked. Nicotine and herion addictions are exactly the same and that's pretty scary. We're all addicted to something, that's just life, but atleast i'm not struggling with herion. Just maybe one day i'll find my cure, because it's a personal demon, that has to be handle in one's on personal way. Good luck, i wish i could say more, but you and i are on the same boat right now.

• United Arab Emirates
7 May 10
Gemini, it takes the will and mindset to achieve this, please try and make that decision that i have made, smoking kills.

• United States
6 May 10
I would like you tell me what you find out so I can share with my hubby who has been trying to quit for years. i personally do not get it as I got pregnant and was like I am pregnant I have to stop and did. Hubby still can't understand how I just turned it off but I think in my case I just mentally told my self it had to be done and I just did it. Like when a sky diver says it's time to jump, scared as they are and does it.

• United Arab Emirates
6 May 10
Will keep you posted with the results and let you know when i finally know how best to stop it. What i just want you to tell your friend is it takes the will-power and an occupied mind, a mind that has so many things to do and think of how to get it done. This simply keeps us busy and helps get rid of the urge to smoke.


• United Arab Emirates
6 May 10
Evepin, it's not as easy as you say it and i'm so glad for your boss, he is trully a string man. It's quite true that it's all about the decision and desire, will try harder.

• Philippines
6 May 10
Stopping smoking is really hard. I'm a smoker too and i've tried a lot of things. But they say hypnosis works. I'm trying to look up on this but i never really believed hypnosis. I just hope i'm wrong.

• Singapore
7 May 10
Any smoker will be able to tell you that quitting smoking is one of the most difficult task one can ever undertake. It takes more than just common sense, as smokers are aware of the health hazards and yet they are still puffing away. It's good that you want to quit. As a recommendation, you may want to try chewing on gum whenever the urge to smoke arises. Or you may want to try out those nicotine patches. Don't try cold turkey. It may do you more harm than good.

• Philippines
7 May 10
I think it would really take alot of patience and it's a matter of self-discipline. Take it slowly and be focus on your goal. Surely you'll make it. I know some people who had successfully done it.

• China
7 May 10
Maybe you can replace smoking with another thing,e.g. Chocolate,Seeds and so on.But it's not the only way.Anyway I hope you can quit smoking in the future.