Are there any foods that brng back happy or sad memories for you?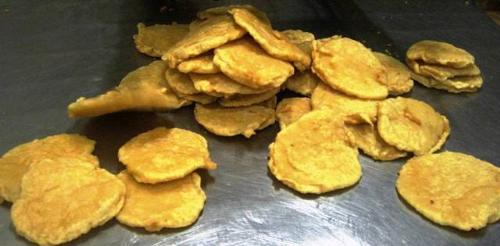 May 6, 2010 12:33pm CST
There are several for me but the main food that evokes happy, happy memories is a big plate of steaming potato cakes slavered with butter!! My mouth is watering now as I write about them. Now I can say without being big headed that I am not a bad cook, I am a trained Home Economist and taught catering before I retired, but I have never been able to make a potato cake to measure up to the standard of my mother's. When ever I see potato cakes I think back to Saturday tea times in the 1950's/60's, as they were a regular, and very popular, tea time treat on those Saturday evening many moons ago. I can remember as a very little girl of around five recognising that my mother was cooking potato cakes and getting quite excited at the prospect of a yummy tea!! I can see her now standing in our small lean-to kitchen as she stood mashing a huge pan of potatoes or as she stood, dusted with flour, as she rolled out the dough. If you don't know of these delicacies of which I speak they are a traditional British dish consisting of mashed potato, butter and flour, the mixture is rolled out and cut into circles and baked. So simple and yet so delicious when split and served hot with butter melting into the soft dough like filling. I still don't know how she did it, but my mother managed to make her potato cakes light and airy. When she split them they were not dry but moist and sticky and the butter just oozed all over them, leaving us with greasy fingers but a VERY happy tummy. Ah yes, potato cakes remind me so much of my mother and bring back really happt memories; I can see my mum now walking into our 'front room' with a plate piles high with these little delights and me and dad getting very excited. Happy, happy days!!
5 responses

• Philippines
6 May 10
I have a lot and I don't know where to start since I hate cooking but I love eating. When I was in college, I used to eat instant noodles for my breakfast since it is the easiest and fastest way to have it done. No instructions needed and it will not take too much of my time before I will be late for school. Cakes - I hate it because my boyfriend used this as an alibi when I saw her with another girl. It was my birthday then. He told me he will be late to come over so I decided to have a sometime for myself in the mall. Unexpectedly, I saw him with this girl and they are about to have a movie. Imagine it was my birthday! I should be the one to be with him in a movie house right. Then he saw me and came after me. They ended up not watching then, but I ended up confronting him. See! He told me he went to the mall to buy a birthday cake for me but then she saw the girl and the girl pleaded him to accompany her to watch a movie. Popcorn - I hate this because it reminds of that time when they were about to have a movie and they both have large pop corn with them. Happy memories? I have a lot and it makes me smile. Happy eating!

• United States
11 May 10
Really there are many that bring back memories of when I was a kid and would go to granny's house to visit, she would fry Fried Green Tomatoes, although I now make them they just don't taste the same. Her fried chicken, how she got the KFC skin on the chicken when she fried it, I can't do it. When you speak of potato cakes, mother used to take the left over mashed potatoes and make a patty out of it, then roll it in flour, and fry it to make a brown crust on the outside and it was put on our plate to eat with fried eggs. Another thing granny made was corn meal mush, it was made with white corn meal and she added some kind of meat that she had the night before, it was rolled in flour and fried and we eat it with syrup for breakfast. I bought some at the store, but like I said not the same as granny cooking. I miss her so much especially think of her when I making fried green tomatoes.

• United States
6 May 10
There are a few that I wouldn't give up for the world. My mother's pound cake a favorite Christmas treat and my grams pepper roast. Though i guess i could put anything my Gram ever makes on the list and must add her whiskey cake that I hope so much to inherit one day as she will not give it up now just as I remember my great Grandmother not giving it to her when I was little. Also my old neighbors stuffed cabbage. The best ever that I cannot remake even with her recipe! Food is such an experience of taste touch and smell and sight that I think it holds on to or sticks out the most in our memories. By the way potato cakes sound great, this little Irish girl really does love anything potato, stereo type hell yeah!

• Philippines
7 May 10
Potato Cake? Haven't tasted that yet. When I think about food, I remember my mom whipping up pancakes and pudding. So every time I eat pancakes, I remember her. My dad is a good cook too. He used to cook native Filipino delicacies and I really miss him a lot.

• Garden Grove, California
6 May 10
oldchem1 I live in the US and I love potato cakes too, very much but what I really love and seldom have now is beef stew with carrots, and oninons and green peppers and some tomatoes too, made by my hubbie a good many years back before I became a widow. he made the best beef stew anybody man or woman had ever made.He browned the meat first then cooked the meat and veggies together. simmered until the beef just fell apart. the staff here does make a good beef stew and happily we are having it for dinner tonight. so I am a happy camper. Beef stew and my hubby go together for sure. lol lollol.