Ok, yet ANOTHER Robin Hood film coming out, which has been your favourite?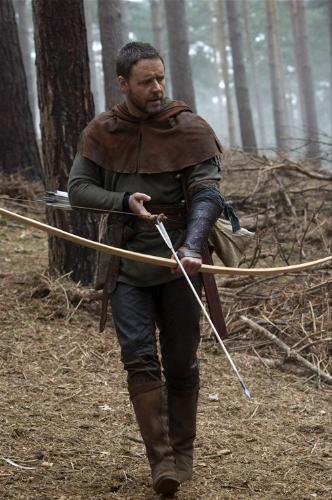 May 7, 2010 3:04am CST
When 'Robin Hood the Movie' starring Russell Crow as the infamous outlaw, is released on 12th May it will amazingly be the 47th version of film or TV programme about the famous outlaw from Sherwood Forest. The first film was actually released in 2008 and called 'Robin Hood and his Merry Men' sadly this has been 'lost' so we don't know anything about that one. The next film was in 1912 with Robert Frazer playing Robin. 1922 saw one of the most famous Robin's by Douglas Fairbank and then of course there was Errol Flynn in 1938. After several other variations the next famous Robin was courtesy of Richard Todd, in the 1952 Walt Disney's Story of Robin Hood. For Brits of 'a certain age' Richard Green ( played on BBC between1956 -1960)was THE Robin Hood; then in 1973 we had the Disney animated version with a fox playing the part!! Even James Bond (AKA Sean Connery) had a go as Robin in 1976 in 'Robin and Marian; but surely Kevin Costner must be high there in votes for his Robin in the 1991 'Robin Hood King of Thieves' Jonas Armstrong was the last face behind Robin on BBC television and he played the part between 2006 and 2009. I think for me it HAS to be Richard Greene - I am of THAT age!! - with Kevin Costner coming a close second, but then I've yet to see Mr Crow's performance!! How about you?
6 responses

• United States
7 May 10
This new version looks very promising. i am anxious to see it. Robin hood with Kevin Costner is my favorite Robin Hood film. My least favorite has been men in tights. I like more action and less comedy in robin hood.

•
7 May 10
Defininte "The Adventures of Robin Hood" with Errol Flynn. Wonderful entertainment and camper than a row of pink tents! I did also love the TV series with Michael Praed and the Sean Connery which was something to look forward to in the otherwise very plastic 1980s.

• Australia
19 Jul 10
I am also of the age where Richard Greene was Robin Hood. My brothers and I would get home from school and watch the latest episode on TV. We would then disappear into the scrubland behind our house and spend an action-packed couple of hours playing Robin Hood. Being the eldest I was always Robin Hood and my brothers were the evil sherriff of Nottingham and his lackey. I have recently obtained the TV series on DVD and enjoy being transported back to those days (although, as my brothers are now older, bigger and wiser, I don't think I could defeat them quite as easily nowadays). Thanks for the memories oldchem 1.


• Philippines
7 May 10
like the post above men with tights is the best! that's the only robin hood film i like. i hope they don't put based on history, or true story in there because there are no real robin hood in the world

•
7 May 10
AH BUT ACTUALLY THERE WAS !! Granted not in the romantic view of Hollywood, but there were many such oulaws in England in Medieval times as John was running the country (very badly - perhaps his middle name was Gordon Brown) while his brother King Richard was fighting the Crusades. These were members of wealthy families who had their lands taken off them by the crooked John