why women of today wear so much colorful, fashionable and attractive dresses?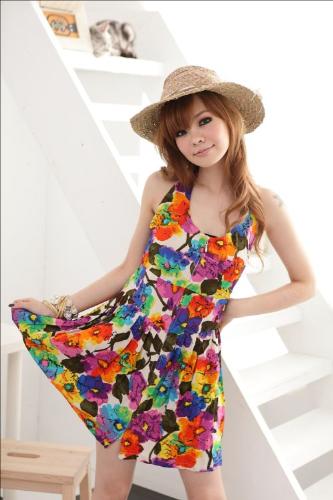 Canada
8 responses


• India
7 May 10
the main reason is that they wanted to attract the opposite gender...so when they wear those kinda gorgeous dress it makes them feel vulnerable n makes others to see them

• Philippines
7 May 10
this is only according to my own opinion and observation.. guy's point of view: so that they will be noticed easily, unlike having only solid colors that are somewhat a bit boring. Wearing colorful and attractive dresses enables girls to be the highlight even in a normal city view, because usually houses and buildings have dull, solid colors so that would mean that when a girl passes by, she would be noticed easily. Oh, i just remembered, i read somewhere that because guys are attracted to flowers so maybe that's why girls wear them, to attract guys. girl's point of view: they want to be noticed; makes them display their emotion as of the moment like being happy; because they like it and are attracted to it.

•
7 May 10
I don't know about other people's reasons but I dress well because it makes me feel good. It feels almost artistic putting a good outfit together, no objective it's just fun!

• Philippines
8 May 10
I will speak for myself.I love clothes,but I don't see them as tool to compete with other women.I dress up with nice colors and patterns because I want to.I dress up for myself and not to attract somebody.although it is inevitable that some guys are attracted to women who dress well.I dress well for myself,not for somebody else.

• Garden Grove, California
7 May 10
bart78 for me an elderly woman I love to buy and wear pretty \clothes for me, to make me feel and look well dressed and attractive, but not for men. I had a great marriage for 33 years, now am having a great widowhood free to be whatever I want, to go when I want to go. I have been married, been there and done that, now I just want to look as presentable as I can just for my own self confidence.I have never competed with other women and never wanted to. I just want to be happy in what I am wearing and know I look my best. An intelligent elderly woman still has

the same desire as she did in younger years to look good so people will not stare and think shes a bag lady or worse.



• Philippines
7 May 10
Why women of today only?? don't women of yesterdays do that too? they have short sleeves and mini skirts, although this generation has more exaggeration, like short micro mini skirt

. Whatever the reasons may be, I cannot speak on their behalf, I can only speak of myself. Women in general have different styles and tastes. I myself can go for colorful clothing and something fashionable but never to say it to attract men because I am careful to choose decent and proper clothing. I don't compete with others if I regard clothing as one. I see clothing as a signature that tells of who you are, with authority and somewhat a way for people to respect you. In this world, where the eyes can tell of what they see, you can't seem to hold yourself if someone you see would dress inappropriately for what the occasion calls for. So if you ask me about my objective for dressing, it will only be for decency and appropriate manner, the rest of the percentage goes to color and somewhat fashionable yet elegant and proper.