Why are blondes projected as dumb?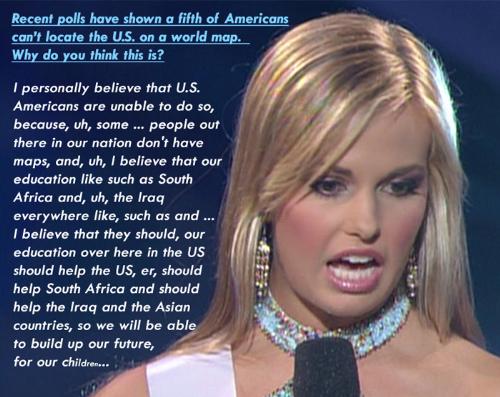 Philippines
May 7, 2010 6:14am CST
I don't mean to be rude nor judgmental. No harm intended, this just a question out of curiosity. I know not all blondes are dumb because there are a lot of successful and intelligent blondes out there. I have heard and seen so many dumb blonde jokes and I have seen a lot of commercials projecting blondes to be dumb. Why is that so? Is there a scientific explanation behind it? Or does being blonde gives one the right to be dumb? Please share your thoughts and happy MyLotting to all!
5 responses

• Philippines
7 May 10
well there are stereotypes in this world and sometimes it bad sometimes good. example: asians smart in math, indians in medicine and etc etc dunno what started it all but, i would also like to know how blonde equals dumb

• United States
7 May 10
That's just a myth.That's totally wrong to even say.But I've heard that statment.I used to have blonde hair and I don't cansider myself dumb.That's not even proven.I don't know why someone started saying that about blondes.Well whoever did isn't a blond.

• United States
7 May 10
Its not a myth really I mean there ARE SOME really dense blondes in the world...Like I said in my post, its a stereotype

• Philippines
7 May 10
That's not true. They just judge them that. Maybe there are a lot of famous blondes That's why it came out that way. I don't like people stereotyping people. There are alot here and i'm just sick of them judging others by how they look. I could just stick a knife through their throats or something.. That's exaggeration. :)

• United States
7 May 10
i do know some who are kinda of dumb. but then again i know many others are just as dumb

•
7 May 10
well, maybe because someone has noticed that the most of them are really dumb