What are you getting your mom for Mother's Day?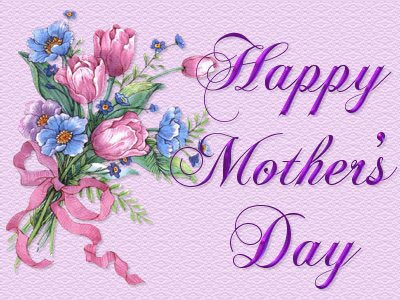 United States
May 7, 2010 11:28pm CST
I'm confused about what to get my mom. I don't know her knew address so I can't ask her what her address is and send her flowers because then she'd know. If I find a nice picture of her my friend offered to vector it for me. Hmmm...I wonder. Would you buy something for your mom or make something for her? Do you even celebrate Mother's Day this coming Sunday??
4 responses

• Philippines
8 May 10
I don't Think I can Give my mother a gift these year. Because were really financially trouble.But, Before, i would always treat my mom on a date and give her flowers...But now, that's not gonna happen... Maybe we'll just go to church and then I'll greet her with a warm hug and a kiss... Hope she'll be happy that way...

• Philippines
8 May 10
I will buy here a dozen of roses and a kiss.

• Philippines
8 May 10
Hi there Eddy Spaghetti! We always celebrate Mother's day. We take it as a special opportunity to show our mom how we love her and how much we appreciate everything that she did and is doing for us. Yesterday, we had an early celebration. We took her to a seafood restaurant since she won't be able to go out on Sunday, the actual Mother's day because there are lots of reservations in the resort that she is managing. I think having a vectored image as a gift is a great idea. If I can make something, I would prefer that than to buy something for her. I appreciate the efoort more than the give itself, if you ask me.

• Philippines
8 May 10
I'll be giving her favorite cake from a restaurant. It's called chocolate heaven cake and it's really chocolatey. :D It's my favorite too so the two of us will enjoy the time together while eating our favorite dessert. She haven't eaten that cake for some time and i think she'll enjoy a slice or two if it. :D