watching someone yawning makes you do the same .....why....???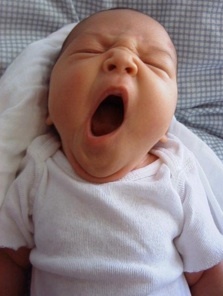 India
May 8, 2010 3:22am CST
hey all myloters this is a big mistery for me and also for the world have you ever felt this when you watch someone yawning it also makes you yawn........even if you are not in mood to sleep ......or sometimes when you are yawning the person in the front of you starts yawning....... can anybody tell me why this happens ......i believe it is a mistry for the medical science also........if you know then please also let me know....... and hey keep yawning and keep mylotting.........
9 responses

• United States
8 May 10
I don't think there is a known answer to that question. This is the one that I heard, that to me makes the most sense. When you yawn it means there is a lack of oxygen somewhere in your body. Maybe because of low amounts of oxygen in the air. So you yawn, so that your body can balance out the oxygen intake, and the co2 output. When this is done it means there's even less oxygen in the air, so other people around need to do this too. Of course this is one question on my mind now. Do people need to see or hear you yawn to yawn, or can they just be near you. Like if you yawn, will a deaf+blind person yawn?

• India
8 May 10
great man i know that reason but there is a research going in America over this issue .......and they are not sure about this thing though they also say the same thing.............nice response........

• United States
8 May 10
yeah, there is alot of research into it. I'm not really sure why. I would think all that tax money could be put to better use, then to try to figure out yawning.

• Philippines
9 May 10

hi himan, since you've had two discussions of the same kind,the other one had been deleted. which made my response got deleted of course!so here i am trying to respond again! hoping it will not be deleted in a way! well,yawning is really hard to control and it's like a chain/epidemic when one starts to yawn,most people who've seen it will also yawn! it's really hard to control it specially when you're not sleepy but still you yawn! i don't know why! Yawning is an involuntary action that causes us to open our mouths wide and breathe in deeply. We know it's involuntary because we do it even before we are born. Everybody yawns — from unborn babies to the oldest great-grandparent. Animals do it,too. But why, exactly, do people and animals yawn? No one knows for sure!


• India
9 May 10
hey great job ......i like your response .........your right it is like a chain reaction that never stops if you are yawning in between large crowd........

• United States
9 May 10
I don't know why it happens but I used to have so much fun with that many years ago when I was a telephone operator and was bored. We worked in front of a long switchboard and, when there was a slow period, I would yawn...long and loudly. I would always catch he11 from my coworkers...as they tried as hard as they could not to yawn and then had to anyway.


•
9 May 10
It's similar to itches. When a person told me that his hand/leg..etc is itchy, I would feel the same. I think it's a psychological effect. Something must me meddling our brainwaves..Happy mylotting!!! Cheers.

• India
9 May 10
great job dude i like the itching work...........


• India
8 May 10
great this is the best possible reason.........


• Philippines
8 May 10
Because yawning is contagious when we saw someone is yawning also. We yawn because we are sleepy and yet we are fighting to stay alert and vigilant. Maybe there is an automatic reaction in our brain that when somebody yawn, we yawn also. It's so contagious! hammmmmmmmmm!

• India
8 May 10
yes we cant stop doing that if we saw someone....ok by by take care........

• Philippines
8 May 10
I think that's purely psychological. When you start yawning, you send signal to the person in front of you that the moment, that the situation is sleepy. Then he start thinking "it's so sleepy". Or, the environment around has something do with it. I mean the temperature. The climate. Or, if you are watching something, like a show or a movie, maybe they're so sleepy. That's how I see it.

• Philippines
10 May 10
its still a mystery why if we see people yawning we also tend to yawn, its like a communication or a simulation reaction where you can also feel what that person feel like his sleepy and his yawning, and then you also yawn as your trying to tell that your also sleepy or tired, sometimes if we started yawning then we keep on yawning too as we tend to tell that we are tired and sleepy though may not in words but in verbal way thats why we need to work our mind to wake it up or give a little nap to rest.