Johnny Depp/ Brad Pitt

United States
11 responses

•
12 Aug 11
I don't think they look anything alike at all! Lol I do think both of them are very handsome men in their different ways and each of them is ageing well too. I always used to prefer brad pitt but, think Johnny Depp is getting better looking somehow! Haha

• United States
12 Aug 11
I had to take another look your'e right they don't look alike but they are similar when it comes to acting but I also find both of them attractive too.


•
27 Aug 12
I think they both just have a very good presence and aura in general!

•
8 May 10
They look very different- Johnny Depp has dark hair and eyes and Pitt has blonde hair and blue eyes. I also think he has more tanned skin. Maybe you think they look alike as they are both confident actors?

• United States
8 May 10
Yea that's probably it but I know they are both extremely good looking!!

Which one do you think is cuter?

•
11 May 10
Ummm I think Brad Pitt is cuter, but Johnny Depp is more talented. What do you think?

• Malaysia
12 Jun 10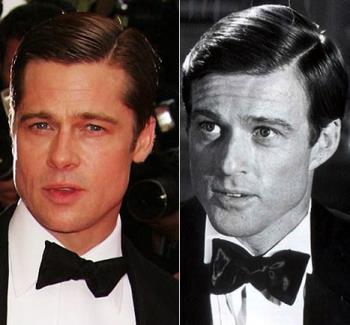 Perhaps you haven't seen many of their movies therefore you think they look alike. They look totally different. Brad Pitt looks more like Robert Redford. Just take a look at the picture of both of them below. Don't they look alike? I used to differentiate Matt Damon from Mark Wahlberg but when I saw them together in The Departed, I realize they do look slightly different.

• United States
29 Jun 10
Oh wow! I totally see the resemblance of those two. I never realized that before. That's pretty cool. Thanks for sharing the pictures of them side by side.

• United States
8 May 10
Maybe it's the facial hair? That's the only thing in common next to them both being considered heart throbs at several points in their careers.

• United States
8 May 10
Yea they are both very attractive!!!!



• Brazil
21 Jul 11
If you are talking physically, I think they are totally different. And I really don't follow these two actors careers to know if they have similar way of thinking. But, if I have to chose, I think Brad Pitt is more good looking, but only because I don't like Johnny Depp style.

• United States
29 Jun 10
No, I don't really see a connection. I think their bone structures are very different to me. And Brad Pitt is usually more clean cut. While Johnny Depp looks a bit dirty every now and then haha.

• India
22 Jun 10
I like both of them equally. They are excellent in their roles.

• Indonesia
12 May 10
Well, i think they don't look alike. the same thing between two of them that they are a very good actors and good looking too. but, personally, i like Johnny Depp more than Brad Pitt. Because he had played many different characters and succeed.

• Australia
9 May 10
I like both of them especially Brad Pitt I think he looks heavenly! Johnny Depp is extremely good looking too and a brilliant actor but I don't think he looks like Brad in any way. I would like to see Johnny Depp in something where he's not wearing heavy make up playing strange characters! He is very good though...They both are; I enjoyed Brad in The Curious Case of Benjamin Button immensely.