Do you think making New Friends can Hurt Old Best Friends?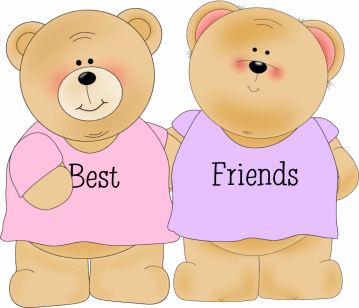 India
May 10, 2010 3:41am CST
[b]I know its a little Strange Type of Question,But I do Believe many of us has been experienced or Face this Question!Yes Friends we know Friendship is such a relation between Unknown People which makes them so Close like knowing each other for long time even can Judge each others Thoughts going in their mind as well as the Feelings the Friend going on with can be known by other Best Friend.Friendship has been such Tombstone in this Worldly Pleasure Life made Life So Easy and Flexible.

Best Friends are such with Whom we Play from our Childhood ages.Completed our School life making Mischievous Act with our Best Friend.When Get Caught by the Teacher we Put the whole act to the other

.There are lots of Happy and Fun Moments we Get with our Friend specially Best Friend.But How He will Feel When we step aside from Him\Her.Making a new way with a New Friend.What The Feeling He\She will go underneath from when we make New Friends. As Time Passes Man always has the Tendency to gets Change.So In such Situation When we made New Friends,Our Old Friend gets lonely.Don't we get greedy with this.We left a Best Friend Who always supports us,Help us!!We Forget Him and giving Less Importance because we made New Friend!! What do You think making New Friends Can Hurt our Old Best Friends?[/b]
9 responses

• Philippines
10 May 10
of course not. i learned that one can never have too many friends. sometimes new friends even become better friends than old ones but of course you still have to nurture your friendship with your old best buddies.

• United States
10 May 10
Eve, you're absolutely right that you have to nurture friendships with old best buddies, but I think it's something not everyone thinks about. Some of the best friends I have don't even live in the same state any more and we might go for weeks or even months without talking, but when we get back together it's like no time has passed. Those are the ones I know are lifelong friends. For some others who have come into my life perhaps a bit later on, there is more chance of them somehow being hurt by newer friends, but it really depends on each friend's personality and how well they adjust to change. I've certainly never dumped one friend for another, but might sometimes spend less time with an older friend while making a new one...and if the older friend is put out by that, then I would consider that "hurting" them. Just my two cents. :)


• Australia
11 May 10
No, I have to disagree that making new freinds can hurt old best friends. Making new friends is good, especially if they treat you with respect as much as your old best friend does. Old best friends will always stay as your old best friends, and so your bond will not be broken.

• Philippines
11 May 10
I don't see why that should be the case? We can't help but find people we would agree with over the years, be it in school, office, or organization. Though we have other friends or accumulate more, I don't think it would affect past friendships. I could remember way back when we were going to college. We thought our friendship would be over because we belonged in different cities and different schools, not to mention different courses. But though we were far apart and have other friends, we're still friends (close friends) till now. The good thing about such is that we have introduced our friends with each other thus developing new friendships along the way. It's great really.

• United States
10 May 10
The feelings of hurting old best friends and making new friends depends on you. because if you completely ignore your best friends for your new friends then thats when old best friends begin to get their feelings hurt. but mostly the old and new friends become close!

• Philippines
10 May 10
I see, well, based from my own experience, my old best friends was so dear to me. But time does move. And we don't get to see each other so often and is not communicating that very well. And so, it is really human nature to look for one and be at home with his or her presence. And then, when I see my old best friend find a new one, then it made me happy that he or she had moved on also. Loneliness does strike, more so, when you recall those times that you mentioned together. Those were the days. The days that made you closer together. But what can we do, we have to move on and along the way, we meet someone new..


• India
10 May 10
some times i think the same because i have old friends and if they had a new friend then if he is close with him/her for a long time without caring me if he took care but not that much that he has taking caring of his new friend, then obviously i feel hurting myself..... Thanks for posting good discussion..... have a nice day


• Philippines
10 May 10
i dont think so... "make new friends but keep the old.. one is silver and the other is gold" all of us meet different people everyday and with these people we are bound to build friendship with.. your friends meet new friends and so are you.. having a lot of friends is better.. real friendship should not be jealous..