What shape of Cookie or Biscuit you like to eat??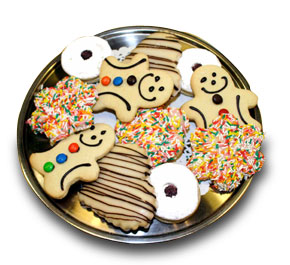 Philippines
May 16, 2010 8:42am CST
Because sometimes i do think that the shape of a cookie affects wether you will choose it between the other cookies or biscuits. like when its shape is star you would choose it rather than choosing the usual circle shaped cookie or biscuit. for me i would choose a cookie that has a human shape because i get make fun of it while eating it.. how about you do you still remember what shape of a cookie or biscuit you used to eat when your still young or even now that you've grown up..??
7 responses


• Philippines
17 May 10
here i baked some for you.. hope you'll like it..



•
17 May 10
I prefer the size of animals because then I make fun while eating them,I have always been good to make such cookies so I will prefer that only. And sometimes what I do is to make several size of different shape then I will ask someone to eat this or that shape after searching for it.

• India
17 May 10
I break their head off and there I am - a Terrorist. I used to play with them when I was a kid. On my own plate, I imagined I had a zoo.

• Italy
17 May 10
Oh my goodness! Cookies are cookies and I have never thought that the shape made more difference than the tast but after reading this it has all taken on a completely new aspect

Those poor animal shapes miht get a miss from now on


• India
17 May 10
I care nothing for the shape , because even if it is the shape of an animal or the shape of a man, it is gonna end up safe inside my tummy. Well, this discussion has made my mouth water again !!!



• Philippines
17 May 10

here's also some cookies i baked hope you'll like it..




• China
17 May 10
i'd like to eat the cookies with the simple round shape.cause in my oppinion,round is the traditional shape for the cookies,and when i was a little girl,the princess i met in the fairy tale usually ate small round cookies for her afternoon tea.i think if i was given cookies with the shape of human ,i would be too afraid to eat then.haha~