Tel Reach Refer a friend Work from Home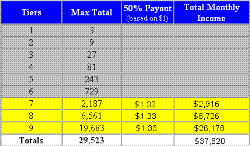 United States
November 16, 2006 11:15am CST
They are running a special to refer a friend. you can email me at carolemail1@yahoo.com Daytime Monday through Friday, 8 – 5, the business work week. We do not call anyone during the evening or weekends. We call only businesses. We do not call homes. TeleReach Callers earn $12 to $25 per hour. TeleReach callers are required to work a minimum of 15 hours per week and a maximum of 40 hours is available. One year of verifiable cold calling experience is required for an interview. In order to be considered for employment you must NOT live outside the USA. We are NOT hiring in the following states: CA, CT, FL, IL, MD, MI, MS, MT, NH, NV, PA, or WA.
2 responses

• United States
10 Dec 06
what if you dont have the call experience and want to get into doing something like this.

• United States
17 Nov 06
Well, this offer would not apply to me. I live in WA. And I have a Full time job anyways. Just wondering why some of the Bigger States are not allowed to do this? Makes it interesting if you ask me.