I love mangos but find them very difficult to cut - think I've found how now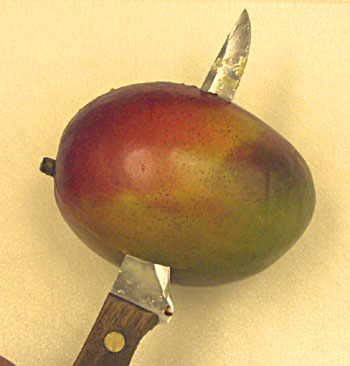 May 17, 2010 6:03am CST
I think mangos are delicious, I love them raw in fruit salads or cooked as a sauce to serve with ham or pork,but cutting them can be a real pain because of the large stone in the middle, which has a very strange shape!! I used to end up nibbling most of the fruit off the stone as I had left most on it when I cut it!!

I think now I have finally managed to learn to cut a mango well. Let me share!!!

If you look at the mango it has two flat sides. If you put it down on one of the flat sides,you can slice along the flat side next to the stone, turn it over and repeat. You end up with two sides of mango. The best way to get the fruit out of the skin is then to cut the flesh into squares and then turn it 'inside out' so that it looks like a hedgehog and then just slice the fruit off!! This works for me, how about you?
4 responses

•
17 May 10
I love mangoes too & use them in mango biryani curry! I make a small cut in the skin then put my fingers in and pull the skin off that way. It is quite messy, but it works pretty well. Then I hold the mango and slice off bits of the fruit with a sharp knife.

•
17 May 10
Yes, it is, it's a Slimming World book recipe so it's low fat too :-)

• Philippines
19 May 10
Yes, slicing the "cheeks" is how I usually get the flesh out a mango. You could also try using a spoon to scrape the flesh off a "cheek". This way, you wouldn't have to turn it inside out. But the "hedgehog" makes a good dessert presentation. My sons always pretend they are dinosaurs eating buildings!


• Philippines
17 May 10
Congrats.. ;) yeah i also do that when im slicing and peeling mangos. I love mangoes..