Theres a spider who lives on my desk, what should I do with him?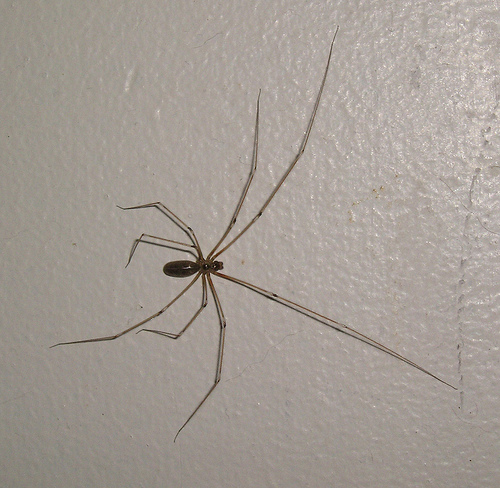 United States
May 17, 2010 6:00pm CST
Yep, thats right I have a cute cuddly little spider living on my desk, some times he comes down from his hiding place to say hi. I am thinking of making him my pet. of course I would not cage him but maybe give him a name and talk baby talk to him. "does my wittle cody wody want to see his mommy?' huh huh?? What do you think? I'm not allowed to have regular pets but no one said i cant have a spider pet. Should I keep him or let him outside to vbe free? Don't tell me to kill him because I already love the little thing.
10 responses

•
18 May 10
Keep him, I know I would. We get tons of spiders in our house, I just leave them where they are, they are happy there, I think. Anyway if a spider lives there he must not want to go outside, and he wants to be with you. =)

• Philippines
18 May 10
if it does not bother you just leave it there and let it live life.. just like what you said you could also make it as a pet or just a friend, when you'r stressed at work try talking to it about the problem and it will make you feel better even it is not talking back of course be afraid when it talks remember it's a spider..

have a nice day.. -zedrick_11-

• Philippines
18 May 10

you could record it if it talks back, sen me a copy i wonder what's the sound of the voice of a spider..



• United Kingdom
22 May 10
Hiya Princess, providing he's not poisonous let him stay! I positively encourage spiders into my house, I let them stay rent free, on proviso that they feast their tiny little eyes out on the other bugs that I loathe, their contract is to eat the nasty flies and other bugs that invade my home. I like spiders and I would never harm one, there ain't many bugs that I like and the spider is definitely a friend to Wolfie. I think you should name him if you haven't already.

• United States
21 May 10
Oh my God! You are crazy! Spiders are disgusting and I would of killed it the first time I saw it! This creeps me out! Spiders aren't pets and I wish they would stop coming into my apartment! If I didn't set up traps for spiders I would see more then I do! Spiders are truly disgusting,creepy,ugly and don't deserve to live!


• Shingle Springs, California
17 May 10
If he appears to be thriving, and if he doesn't bother you, I don't see why you couldn't just leave him alone. I would probably put him outside myself...

• South Africa
24 Mar 13
Its better to just leave it there or make a house for him. Spiders just like to chill.

• South Africa
24 Mar 13
Its better to just leave it there or make a house for him. Spiders just like to chill.

• Philippines
26 Oct 10
Well if it seems like there isnt much insects for him it indoors or at your house. It would be best for him to let him go and release him outside. So that he cant more and live longer. Im sure he will be happy with that.