Do you want to see how you look after 20 years?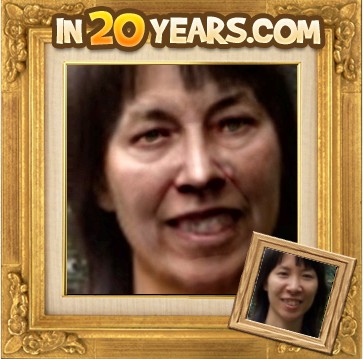 Guangzhou, China
May 18, 2010 3:04am CST
I found a very funny website: http://www.in20years.com You just need to upload your current photo. And then you can see how you look like after 20 years. I have to say that my look after 20 years are terrible

I attached it here and you shall agree with me

9 responses

• United Kingdom
18 May 10
I couldn't see a picture attached my friend! I am not sure which is more scarier looking at a picture of you 20 years from now or looking back 20 years to see how you looked 20 years YOUNGER LOL! Scary on both prospects I think. It is actually my 39th birthday today so in 20 years I will be EXACTLY 59 I am not sure I will try that site as I am depressed enough, I have the big 40 next year although I am actually looking forward to that, more so than when I turned 30. But 60? Well I am not sure I will still be here by then. Thanks my friend ;0)

• United Kingdom
18 May 10
We are both Taureans! Happy birthday for tomorrow, I was born at 10 to midnight on 18th, 10 minutes more and it would have been 19th! Ironically born on a Tuesday as well, I am a Tuesday's child. Chinese Year of the Boar. That is why we get on well.


• Malaysia
19 May 10

it's really funny youless! Thanks for sharing

I couldn't help and had a trial a while ago. I am an elderly therefore I tried with the photo which I had taken twenty years or so earlier. Oh gosh, it looks exactly what I'm now

. When I uploaded my current photo it appeared to be more or less the same. You can have a trial using any of your elderly photo just for fun. Take care and happy posting!

• India
18 May 10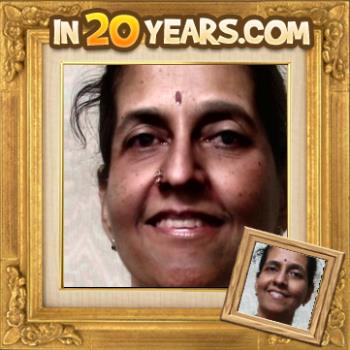 I don't know if something went wrong youless becasue I did upload one which is a picture of me with a saree sitting on a chair.Now I see my face alone and thre is another face [like what you ahve posted].Personally I feel that there is not much change and so I feel thta some error must have happened.It is not possible of rme to llok the same [as such i have become slightly old now and there are wrinkles].


• Malaysia
18 May 10
Huh...in 20 years time, I would avoid the mirrors as it is no longer worthy to look at myself in the mirror. I can imagine a sagging face covered with wrinkles and a head full of gray hairs. I am curious to see how I look in 20 years from now and will check out the link you gave here.



• Philippines
18 May 10
I just tried it now. It's depressing! I'm 19 now, and I'm not even at the point where I plan to think about me in 20 years, and just seeing the picture makes me want to not think about me in 20 years. haha! :D

• Philippines
18 May 10
hey this site is so funny. I tried it and it makes me laugh to have an idea of how will I look like after 2 decades. Hahahaha!