Jackfruit anyone?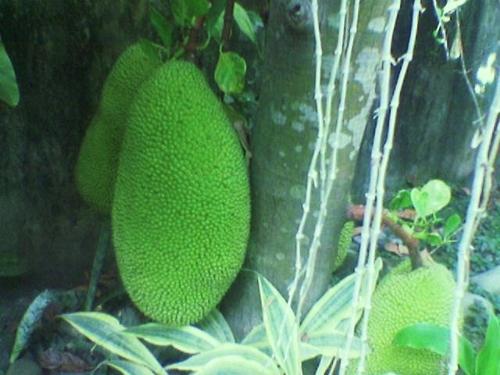 Philippines
May 18, 2010 3:46am CST
Hello there guys! I just want to share to you this huge fruits from my tree at my garden. Well, you have giant pumpkins, giant mangoes and giant fruits everywhere but surely this fruit always grow big when the tree does not have any problem. Yeah, it surely feeds on a lot of water and I thank mother nature for giving me at least ten fruits each year. The last I picked turned to a tasty jam (I made at least ten jars) I gave to my friends and the ones left, enjoyed by my family. This is also a tasty ingredient of "halo-halo", a Filipino summer delight. The candies/pastries are also gaining popularity. However, there isn't much farmer/s growing this one... probably because the seeds are also edible and not much are interested to keep some for planting. Anyhow, this could also be cooked as what they do with vegetables (I haven't tried it though, any recepe?) Do you like jackfruit? Have you tasted this and what was your experience with it?
8 responses

• Philippines
18 May 10
I like jackfruit especially with "Halo-halo" and "ginataang bilo-bilo." I think as a side dish, unripe jackfruit is cooked with coconut milk and shrimp.

• Philippines
18 May 10
Ginataang "bilo-bilo"? I haven't tasted that. Man, surely there are lots of food with jackfuit on it in the islands huh. Unripe jackfruit is cooked as a vegetable. I think we have that version, but they call the jackfruit "pakak". I guess it's not the one I've shown in the pictures. Cool!

• Philippines
18 May 10
"bilo-bilo" are small balls of ground glutinous rice. Sometimes, this dessert is called "mainit na halo-halo." Fittingly, it does look like the regular halo-halo with all the ingredients but only hot with coconut milk. But good for you to have a jackfruit tree! Jackfruit is expensive in Manila...


• Philippines
24 May 10
I like Jackfruit when ripe. It's very delicious and sweet. The smell rises to the air and our neighbors are getting wild!

• Philippines
27 May 10
Neighbors getting wild? Ahahah! have you heard that some don't like to eat jack fruit because of it's smell? They say that people can sense if you ate jack fruit because your sweat could also smell like the fruit when you eat a lot of the pulp...

• Philippines
29 May 10
So you mean to say jackfruit has the same effect like eating too much garlic and onions? Odor being emitted through sweat?

• Malaysia
18 May 10
Hai I like jackfruit very much. In my country, a ripe jackfruit is eaten straight away or adding it into a food delight called 'Pengat'. It's so tasty. Besides that, raw jackfruit also can be cooked as a cuisine but I'm sorry because I don't know the name of the cuisine.hehehe

• Philippines
27 May 10
Which country? Oh it's nice to learn that jack fruit is also enjoyed like Pinoys do. Either cooked or not...


• Philippines
27 May 10
Yeah, it's quite expensive because it does not bear fruit all year round and well, depending on your location too. The decline of planting tropical trees bearing such fruits is also the reason why price can be affected. I'm trying to grow some seedlings so that I can give some to my neighbors to be planted. This surely a good source of nutrition.

• Philippines
9 Sep 11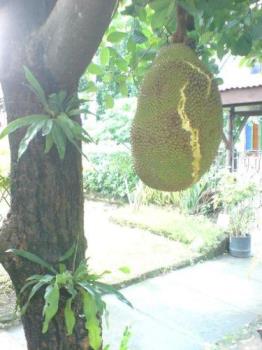 Nice to know your jackfruit is that fruitful. Indeed jackfruits have always been fruitful so that the fruits are even enough to feed the whole neighborhood. I love jackfruits too but I don't want the hassle of opening the fruits because its skin has spikes and hard. I do let my husband do that job and I do the eating.


• Philippines
7 Aug 11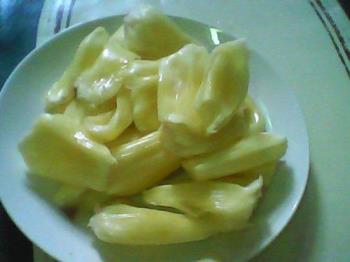 I love eating ripe jackfruit. I don't want it cook I just wanna it it as is so I can really taste the natural sweetness. I also do love cooking young jackfruit as veggie dish. I cook it in coconut milk with some dried fish. I also do enjoy the cooked seeds of jackfruit. I find it really enjoyable to eat seeds of jackfruit while watching TV.


• India
13 Sep 10
hi manunaulat, I am not a lover of jackfruit but i always like it to consume as a curry that is very delicious and spicy..Depnding on tastes one can use jackfruit as a sweet fruit or hot fruit..however i would like to share some good Indian receipes with Jackfruit.. http://www.boddunan.com/health-a-fitness/56-Recipes/14995-mouthwatering-recipes-from-jackfruit.html Hope you will love these dishes once you try them..