Top five places to go to in your locality

United Kingdom
May 19, 2010 9:43am CST
I like to go to Sand Bay. It is a sandy beach and there are beautiful coastal views. I adore Brean Head and although I can see it from my home town it is a drive out to it due to a river. I love going to Glastonbury. It is a new age sort of town with an old abbey, many crystals and a hill called the Tor. I liked going up that hill for superb views of the countryside. My son is disabled so these days I stay at ground level and am not able to go up the hill. I love going on a day trip to Weymouth. I can just about get there and back in a day. I enjoy going to Clevedon, a town just up the coast from where I live. It has an old Victorian Pier and a lovely coastal walk that is possible with my disabled son's buggy. Which are your top five places to go to in your locality? Why do you like to go to those places?
9 responses

• India
19 May 10
I Like to go Marina Beach. where you can get fresh air and play in water. spencer Plaza for Shopping. Sathyam Theatre for Watching Movie. Ranganathan Street For Time Passing. Hotel Park all in available in Chennai

• United States
27 May 10
Au Sable Chasm, cooler on hot days like this. Neat rock formations. Nice walk. Can ride a boat downriver and look up at the formations. The Pyramid Mall, it has a pyramid on one end that allows sunlight in. Has lots of shops. Usually has some kinds of sales. 1812 Homestead has classes in how to do things like they did them in the 1800s. Candle making, soap making, butter making, cooking in a hearth, wool spinning, gardening, blacksmith shop, woodworking shop, make cedar shakes, old time school room, farm animals, outdoor bread oven. Antique car museum, we used to build Loziers here. Few people know that Plattsburgh NY had a lozier factory for awhile. Lots of different types of cars. Or The Blue Mountain Museum that has everything from the olden days. Antique train, antique buggies, rollers that they used to use instead of snow plows, John Rondeau's old home and also an old blacksmith shop, fully loaded, not bare bones like the homestead has. The Wild Center, huge panoramic screen with the latest about nature as a huge movie with surround sound. An aquarium, all kinds of nature exhibits, walking trail with labeled plants.

• Philippines
20 May 10
Most people here would say Boracay is number one. But I have a different suggestion. My no. 1 is Palawan, not that crowded yet, natural resources are still much preserved, no. 2 is Camarines sur, just like palawan still preserved., no. 3 is Bohol, chocolate mountains are awesome, it looks like man-made but they are not., no. 4 is Boracay, well almost everybody here wants to go there. No. 5 Siniloan, Laguna, it is hidden and unpopular, but you can check out the Buruwisan Falls. Try visiting them.

• United States
19 May 10
My top 5 are: 1. Universal Studios 2. Disneyland 3. Hollywood's walk of Fame/Kodak Theater 4. Farmer's market 5. Chinatown All because it's so much fun to be at any of these places, especially for the kids. I love the foods in Chinatown and Farmer's market....so casual and yet fun.

• India
19 May 10
I am fortunate for having born here as the whole locality is build on a History of around 400 years. I live in Hyderabad city which is in Andhra Pradesh and the most popular state for highly appreciated culture in India. Any tourist who visits these places will surely share with others and has a lasting memory. The places which I visit at least for every two months taking out some time is the Choumohalla Palace,Golkonda Fort,Charminar,Tankbund (Hussain Sagar Lake)and the Seven Toumbs. Please take out some time and visit these tourist places - I assure that you will surely enjoy your trip

• India
19 May 10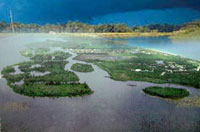 come to assam( my province of india) friend. here u will find.. 1. world largest river island MAJULI. 2. world famous one horned rhino in KAZIRANGA... which was nominated to world's seven. 3. world's seventh longest river BRAHMAPUTRA. 4. world's highest tea gardens ever. 5. attractive monuments of AHOM DYNESTY.

• Denmark
19 May 10
I live in a village in the countryside and close to my home there is an island called Helnaes. My husband and I often visit this island, and I think there are many beautiful places. One of our favourite places is the area close to the lighthouse where there is a nice view. Pretty close to our village there are two towns. One of them is called Assens and the other one is called Faaborg. I like both of them very much and there are some beautiful old houses and some interesting museums. During the summer months I like to visit the area around the habour in Assens. It is a nice place to eat icecream and look at the ferries and the boats. My mother-in-law lives in a town called Svendborg, and that is also a very beautiful place. There are many small islands close to Svendborg, and it is very nice to sail around in that area. Last year my husband, one of our friends and I sailed around for a couple of hours and we took many beautiful pictures. On one of the islands close to Svendborg there is a castle, and that is also a very interesting place to visit. The last place that I would like to mention is Odense. It is the biggest city on my island and there are many interesting places to visit for instanse the Hans Christian Andersen museums and the art museums. I especially like to visit the art museums because I am an artist myself. Twice a months there are new art exhibitions in one of the museums, and it is a great way to see many different kinds of art. Close to that museum there is a beautiful park, and I like to go there.

•
19 May 10
where i live is a small town and there is only one nice place to go ....its a nature reserve place which has a 5 mile walk, apart from that thats it

• India
19 May 10
The top 5 places in my locality which i have visited are the Andaman beach for its beautiful undersea corals.Munnar in kerala for the lovely tea gardens and mountains.A walk in the evening mist surrounded by tea gardens.The beautiful Himalayan range in Manali with natural hot water baths.The beautiful beaches at Goa.The wonderful rice fields at Godavari region In Andhra.All these places have good natural scenery.