Makati City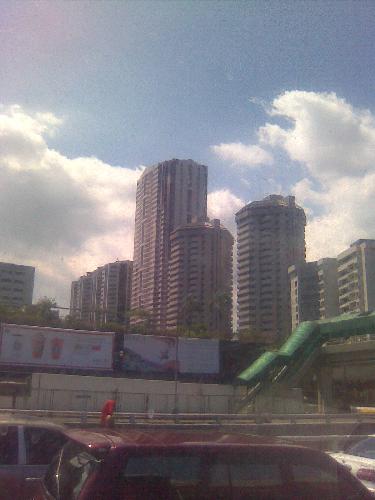 Philippines
May 21, 2010 6:26am CST
I was riding a bus on my way to Manila. The bus passed by Makati and I took a picture because I found the scenery pretty. It looked good, isn't it. I know that not everything about this city was beautiful but, what the heck. Every place in the world has unsightly areas as well. I love our country. there are a lot things to be seen and appreciate here
7 responses

• Philippines
21 May 10
Yes I agree with you that there are a lot of sights that are a must to see here in our country. I also love Makati. I worked there for almost 3 years, I used to call myself a Makati Girl. Hahaha

I don't know, I am comfortable with the place.

• Philippines
21 May 10
Yeah. Makati City looks nice. I think this is the only place in Manila that looks clean. But I am happy that there are more places in Manila that are improving and becoming cleaner. I hope that other cities in Manila will be like Makati and would have less crimes like this city also.

• Philippines
21 May 10
Well, they're a few trash but not like in manila where there is dumped every other street. Makati is a Business Center and a Metro. seems a lot of people walking all the time in a hurry

i miss it so much, i used to work there, i could walk and go to nice malls, but i always wanted to sleep in a mall


• Australia
22 Aug 10
Do you have more photos to upload? Oh... I miss Philippines... =)

• Philippines
26 May 10
Makati is a nice place. .. the big and tall buildings, the nice landscapes, good architecture and a lot of business establishments. I appreciate Makati although there are other nicer places to go . . the places with natural gifts from God.

• Philippines
21 May 10

hello mimiang, that's somewhere between Buendia I think. i used to apply there and work. it's a nice place but tricycles are not allowed, most specially colorum types. Why only Makati? there are better places, and besides i wanted to see every Province and City having a Metropolis like this and not just Makati,PAsig,Eastwood and so on. besides, those who worked doesn't appreciate that much on the place if they're focus on getting there by walking

If my candidate had won, it would have been more than 40+ Makati's in this country



• Philippines
21 May 10
I miss makati. I worked there for almost 2 years. I love the Philippines too... It really is a beautiful country. Hopefully with the new administration the economy can recover so I can go home and live there for good.